Mobile Edge in Lehighton is proud to announce the addition of 3M Ceramic IR window film to our automobile tinting options. This new film uses nanoceramic technology to provide excellent heat-rejection to keep the interior of your vehicle cool. The film also blocks UV energy to protect your skin and keep the interior of your vehicle looking like new.
Drive in Comfort with 3M Ceramic IR Window Tint
Many don't realize that a high-performance tint film like Ceramic IR can do a lot more than make your car or truck look cool. With advanced nanoceramic technology, 3M has engineered Ceramic IR to block as much as 68% of the sun's UV energy. Not only will the interior of your vehicle be cooler, but the climate control system in your vehicle won't have to work as hard to keep it that way.
Exceptional UV Protection
All 3M automotive tint films offer excellent UV protection. UV rays are responsible for skin blemishes and wrinkling. By blocking 99% of UV rays, having your windows tinted with Ceramic IR is like applying a lotion sunscreen with a sun protection factor (SPF) of more than 1,000.
Drive Safely and Stay Connected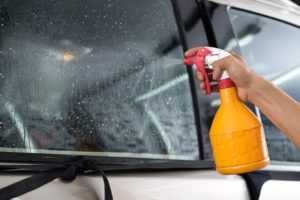 Ceramic IR film won't affect the performance of wireless technologies like your cell phone, a portable GPS navigation system, tire pressure monitoring systems or keyless entry technologies. Likewise, it has excellent anti-glare performance, so you can see more clearly as you drive. Most importantly, as a 3M product, the installation is backed by a limited lifetime warranty covering peeling, bubbling, fading or turning purple. The warranty is good at authorized 3M partners all across the United States.
Upgrade Your Vehicle with Premium Window Tint from Mobile Edge
If you're after window tinting that looks great and offers premium comfort and protection, drop by Mobile Edge in Lehighton and talk to a member of our team about 3M Ceramic IR film. We'd be happy to demonstrate its fantastic performance on our interactive display. If you can't visit the store, you're welcome to use our online Window Tint Estimate Request Form or send us an e-mail by clicking on the red button below for more information.