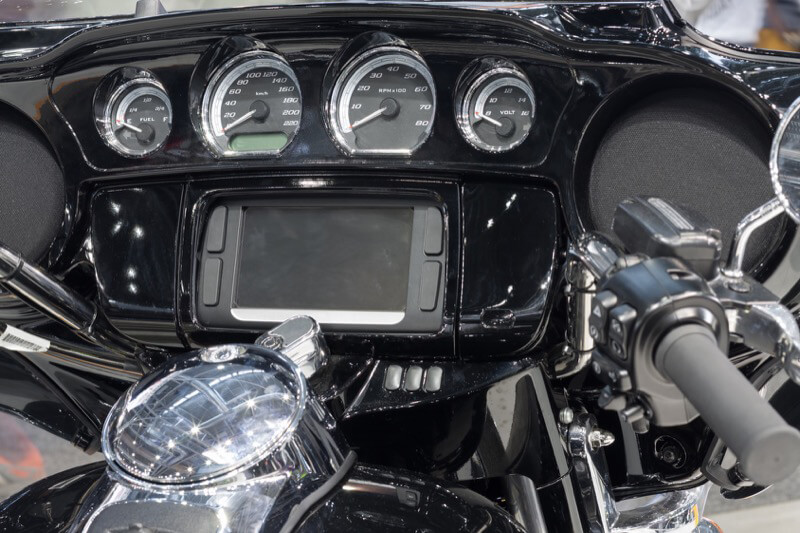 Since 1994, Mobile Edge in Lehighton has been a specialist in mobile electronics, and one of our growing categories is motorcycle audio. Our team is made up of employees who are passionate about music, and we love the challenge of designing and build great-sounding audio systems on a bike.
Motorcycle Audio Specialists
First things first: When you come see us, we won't talk about chrome upgrades for your Harley-Davidson. Custom paint for your Honda isn't an option around here. Your Suzuki can't get engine work done by us. What we do is audio, and we do it well.
If you want to have a great-sounding stereo system on your motorcycle, go to an audio specialist. When you come to us, we know how much power you need to overcome the wind and exhaust noise, and what products work best in particular applications. In short, trust your audio upgrade to someone specializing in it.
Complete System Design
Another area that separates Mobile Edge from the competition is our complete system design. Here is how it works. You schedule a time to stop by our facility with your bike. One of our team will look it over with you and then listen as you explain pertinent facts about your bike – how often you ride, how long are the trips, your favorite kinds of music, etc. We then take all the information we have gathered and design a complete audio solution designed to meet your needs.
Better Products Mean Better Sound
A motorcycle is a very different environment from an automobile, home or even live show. The acoustical environment of a motorcycle is unlike anything else on the road, and the abuse given to the equipment is extreme. Things like dust, moisture and vibration are normal on a bike and can wreak havoc on normal electronics.
Thanks to our reputation in the industry, we have the opportunity to partner with the finest brands in the business, giving you the best-sounding, most-reliable products available. Two of our featured brands, Hertz and Memphis, both make powersports-specific products that work great on bikes.
Reference-standard Installations
Since a motorcycle sees extreme abuse compared to an automobile, we solder and heat shrink all connections, use marine-grade hardware, and create neat, organized wiring looms that we mount securely. Everything we do is designed for easy servicing in the future, coupled with the utmost in reliability. Even aspects like the current draw on your electrical system are factored in so you don't get stuck somewhere with a dead battery.
Basic Upgrades to Concert on Wheels
One of the advantages of doing business with us is we can handle anything from basic upgrades to a full concert on wheels. From replacement radios that include Bluetooth for wireless music streaming to SiriusXM control, we have you covered. Maybe you want one or more sets of upgraded speakers? Our team is sure to have what you need. Finally, power is what makes music come alive, and that means adding an amplifier.
Our solutions can fit into the nooks and crannies on your bike while working with the limited charging capability of your electrical system.
Ride on Over and See Us
The next step in getting the motorcycle audio system you have always wanted is riding over to Mobile Edge yourself. Our staff will work with you to design and build the stereo system that best fits your needs. You can also click HERE for more information about any of our products and services.