While Mobile Edge in Lehighton may be best known for our remote car starters, we are also experts in the installation of RV accessories. With many people planning to head to warmer climates as winter approaches, a few technology and entertainment upgrades can make the trip safer and more enjoyable. Let's take a look at some of our most popular recreational vehicle upgrades.
Safety and Accident-prevention Systems
Don't we all wish we had eyes in the back of our heads? When it comes to navigating highways, roads and parking our RVs, being able to see what is around and behind us makes operating the vehicle much safer. Our backup camera systems activate automatically when you put the transmission in reverse. You will be able to see everything behind the vehicle so you can back up safely. We also offer parking sensors that provide an audible warning when your RV is getting close to an object, which helps you avoid accidents.
If you drive a larger vehicle, then one of our 360-degree camera systems will let you see what is beside and in front of you. Navigating tight spaces is much easier when you have a bird's-eye view of what is around the vehicle.
We also offer camera-based blind spot detection systems. When you activate your turn signal, the system will automatically display a camera image that looks rearward down the side of your vehicle. If someone is driving beside you or in your blind spot, you will be able to see them.
Vehicle Security and Tracking Systems
Many clients have asked us about installing security systems on their RVs. Our Compustar systems can protect your RV from theft. We can add additional sensors to cover doors as windows as required. The DroneMobile system from Compustar is a smartphone-based communication system that uses cellular radio technology to control an alarm or remote starter system. As long as you have a cellular data connection on your phone, you can monitor and control your RV from anywhere. The DroneMobile system also includes GPS locating, so you can see the location of your vehicle on a map at any time.
Entertainment and Communication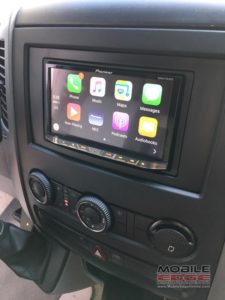 Most of us own an iPhone or Android phone. These communication devices are with us all the time, but pose a significant risk of distraction when used while driving. Apple and Google have created interfaces that are built into many of the radio systems we sell to make communicating while driving much safer. Apple CarPlay and Android Auto allow you to send and receive text messages, make phone calls, and check your voicemail using your voice. Press a button on the radio and say "Send Bob a text message," and the system will listen to your message and send it for you. It will even read Bob's reply back to you. You can focus on the road in front of you and the cars around you.
If you want a simple hands-free solution, we have new radios and stand-alone Bluetooth solutions that start at very reasonable prices.
Navigation Solutions
We have several options for vehicle navigation solutions. A new multimedia source unit with built-in GPS navigation helps to ensure you will get to your destination safely and efficiently. Both Android Auto and CarPlay include turn-by-turn navigation systems that also include real-time traffic flow information. If you have to travel through a major city during rush hour, these systems can save you a lot of time.
Improved Comfort
One of our more popular RV accessories is window tint. Large windows can allow a lot of heat into the vehicle, requiring that you run your air conditioning system all the time. Our window films provide excellent IR rejection to help keep your vehicle cooler. With 99% UV protection, the tint will dramatically reduce fading of materials, plastics and vinyl.
Mobile Edge is Your Destination for RV Accessories
Before you head out on the road this fall, drop by Mobile Edge and talk to our team. Let us know what kind of vehicle you drive, and we can help you choose the best RV accessories to make your trip safer and more enjoyable.
If you have any questions about our products or services, give us a call at 610-377-2730 or click on the button below to send us an E_MAIL.