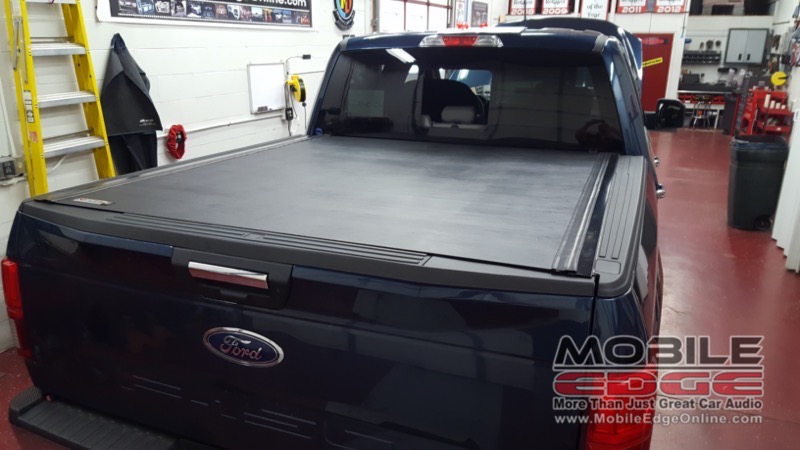 A client from Slatington recently contacted the team at Mobile Edge to inquire about adding a few accessories to his 2018 Ford F-150. He had recently purchased the vehicle and wanted solutions to protect the bed from scratches and the rear fenders from rock chips. He also wanted a tonneau cover so that the contents of the bed would be concealed. Our team of product specialists worked with the client to choose solutions that would provide the protection and security he wanted.
Ford F-150 Truck Bed Upgrades
The first order of business was to install a BedRug BedTred Ultra truck bed liner. This four-piece liner kit includes a floor mat and molded panels for the sides and back wall of the bed. The floor piece includes a hinged panel for the truck bed. The bed liner is made from durable TPO material that prevents cargo from sliding around while protecting the bed from scratches and scuffs. The bottom panel includes ¾-inch polypropylene foam backing to make it more comfortable if someone has to crawl around in the bed.
Next, we installed a BAK Industries Revolver X2 roll-up bed cover on the back of the F-150. This rolling hard cover uses aluminum slats that protect the contents of the bed from theft. The cover can be rolled-up quickly into a small bundle that sits just behind the rear window. For added convenience, a security latch at the rear of the cover can be opened from either side of the vehicle. The cover sits flush with the sides of the bed, so there won't be any additional wind noise when on the highway. No holes need to be drilled into the bed to install the cover, so there's no chance of the metal rusting.
WeatherTech MudFlaps
The client wanted a set of mud flaps to prevent stones, gravel and salt from damaging the rear fenders of the truck. We showed him the WeatherTech MudFlaps. He liked that they install without the need to drill any additional holes in the vehicle. The MudFlaps include QuickTurn stainless steel fasteners that are designed to work with existing hardware locations. The flaps are made of a durable thermoplastic, so they will last for years.
Ford Truck Accessories
We had the accessories installed on this Ford F-150 pickup truck in just a few hours, and the client was thrilled with the way they looked. If you're shopping for enhancements or upgrades for your pickup truck, we invite you to visit Mobile Edge in Lehighton. Our product specialists will help you choose a solution that provides the features you want, and our expert technicians will ensure that everything is installed perfectly, so you'll be back on the road in no time. Click the red button below to e-mail us to set up a personal consultation.