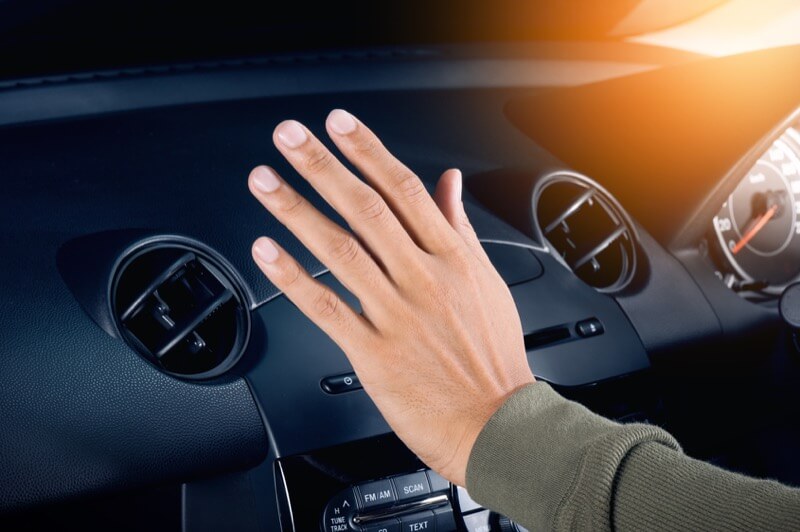 Many people know Mobile Edge in Lehighton as the remote starter experts, and we are very proud of that fact. What is interesting to us is how many people think that wintertime is the only season where they are going to remote start their vehicle. More and more of our clients are seeing the convenience of using summertime remote starters to cool their vehicles down.
Love A Hot Interior?  Neither Do We
Think about this scenario for a moment: While you go out to lunch on a typical summer day, your vehicle is sitting in a blacktop parking lot, baking in the sun. After 60–90 minutes go by, you walk back to your vehicle. What do you experience when you first open the door? A rush of hot air escaping. Then you get that sinking feeling in your stomach. You know the interior of your vehicle is going to be miserable for the next several minutes. Your clothes are going to start sticking to you, your makeup may run and you are going to start sweating. If you owned a remote starter, it would have prevented that problem from ever happening.
All you need to do is remember to remote start your vehicle several minutes before you get ready to leave. Your air conditioning will turn on and start lowering the temperature inside your car or truck.
Do you have small children? Wouldn't it be great if they didn't have to be placed into a car that feels like any oven anymore?
Are you leaving to go to an important meeting? Do you want to look fresh when you arrive?
Maybe you are going out on a date with that special someone? A remote starter will have you looking as good as possible and will make your vehicle more comfortable for your significant other.
Once you have remote started your ride, when you get in, chances are the air conditioning system can be turned down a lot sooner, making the interior quieter. And who doesn't like quiet?
Is it possible that you have trouble dealing with the heat? Maybe it becomes harder to breathe or it makes you unusually tired? One of our systems will help you beat the heat this summer.
As you can see, there are many reasons to use one of our systems in the summer.
Pick The Right Remote Starter Installation Company
Now that you are interested in a remote starter, you want to be careful about the product you buy and the company doing the installation. We suggest picking a company that only installs better-grade products, and that uses industry-standard installation methods. We submit to you that Mobile Edge sells and installs only the finest products available. You see, we hate comebacks and we surely despise doing warranty work. Our solution to these issues is sell and install better products. As a result, many of those problems either never arise or work themselves out on their own.
Stay Cool With Summertime Remote Starters
If you would like to get in a vehicle this summer that is nice and cool with low humidity, stop by and see us with your vehicle. One of our expert staff will work with you to find the best solution for your needs.
You can also contact us HERE for more information about any of our products and services.