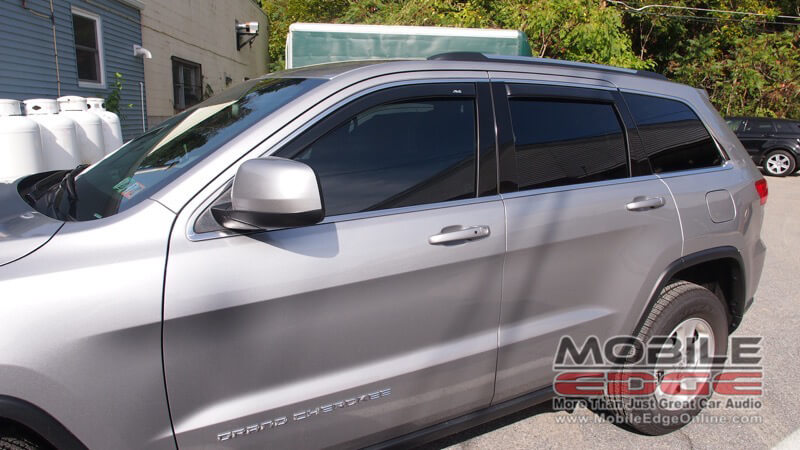 This client from Lehighton, Pennsylvania, had returned to Mobile Edge for the audio system upgrade portion of his long-term 2016 Jeep Grand Cherokee upgrade plan. He had previously brought in the Jeep for a remote car starter installation. In this stage, we combined some of the equipment from his previous vehicle with a few new upgrades. The goal was to dramatically improve the performance of this Jeep's audio system.
Signal Processing
For this new system, we demonstrated the benefits of a digital signal processor. We showed the client how much improvement the Audison bit Ten D can provide, and he knew right away it was worth every penny. The bit Ten D provides factory signal equalization, built-in crossovers, signal delay and equalization for the each of its five channels. We mounted the processor in a storage compartment under the driver's seat.
We mounted an Audison DRC remote control in the front of the center console to give the client the ability to fine tune the system. Bass level is the most popular on-the-fly adjustment.
Amplification
To power the system, we used a Memphis Car Audio PRX700.5 amplifier. This amplifier can produce up to 50 watts per channel to the midrange and high-frequency drivers, while making up to 400 watts for the subwoofer. We mounted the amp above the processor and allowed it to straddle the storage bin. An Audison Connection power wire kit feeds power from the battery under the hood to the amp.
Speakers
The client had a listen to our Ford F-150 demo truck and like the way the Audison Prima speakers sounded. We fabricated custom mounting adapter brackets for the door speakers out of high-density polyethylene plastic. These adapters will not ever swell up or get moldy like wood ones do. The tweeters are mounted in the factory sail panels at the top of the door to help provide excellent imaging.
Subwoofer System
The client had a pair of Audison Dieci-series DS250 10-inch subwoofers. We fabricated a custom vented enclosure for the subwoofers. A set of Hertz woofer grilles protects the subs from objects placed in the storage area.
Jeep Audio System Tuning
We used our Audison bit Tune to set up the crossovers, signal delay and equalization for each of the speakers in the system. The bit Tune takes multiple measurements around the listening position to create smooth frequency response and excellent imaging.
The client was excited to hear his new audio system. Never having owned a properly configured DSP before, he didn't know car audio could sound this good!
If your SUV needs an audio upgrade, drop into Mobile Edge in Lehighton, PA, or contact us HERE.