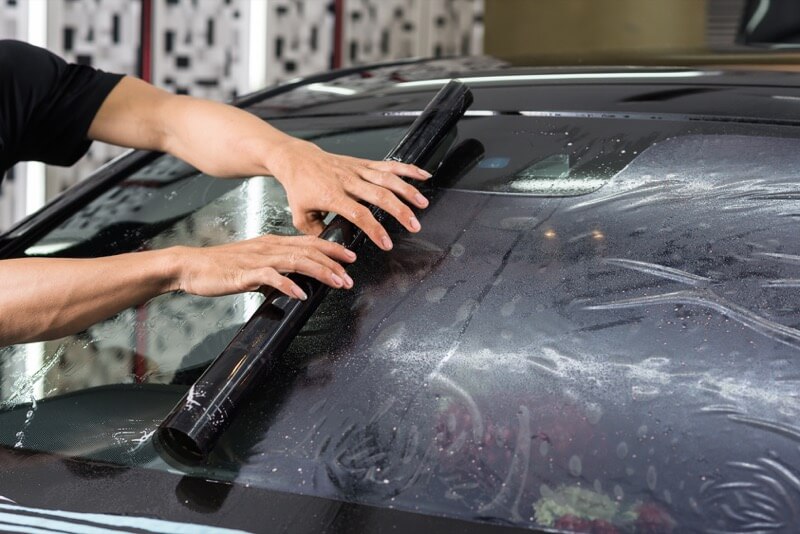 Window tint is an addition to your vehicle that can go one of two ways:  You are either going to look at the vehicle every day and say "WOW that looks great" or you are going to curse the installer each time you see it.  There is no in between on this one. Most people who get their windows tinted plan on keeping their vehicle for several more years.  When having window film applied to your vehicle, doesn't it make sense to pick a quality tint shop to do the job?
Reference Standard Best Practices
At Mobile Edge, we do things to a specific standard and we are very good at what we do.  We stand behind our work and have thousands of happy customers.  In addition to a great window tint application, you are getting the peace of mind that comes with dealing with an expert.  Isn't that worth the trip to Lehighton?
Our Film Installation Process
To meet this standard, we do things a little differently.  Lets take a look at what we do with every window film installation to ensure that you will be completely thrilled.
Cleanliness
First of all, we maintain a clean, roomy, and well-lit installation facility.  We take great measures to keep dust and dirt to an absolute minimum.  Our epoxy floors are cleaned daily and swept up between every job.  We painted our walls white to increase the brightness in the room. While this might sound like it is not a big deal, dust and dirt are the number 1 enemy of a quality window film installation.  Proper lighting is also critical.  This is why we do not recommend having your windows tinted by "mobile" tinters.  There are no environmental controls in those situations.
Check-In Process
When your car is pulled into our bay it goes through an extensive vehicle check-in process.  We inspect all areas of your vehicle from cosmetics to electrical.  All of this data is collected in an iPad application that we had customized for our use.  We can snap pictures of any deficiencies and email the form to our customer in the even any pre-existing problem are found.  This is then saved in our central database where we can get access to it at any time.
Battery Conservation
After that is completed, the vehicle's battery is connected to our custom battery maintenance system.  We do this to protect your battery during the installation process.  Why do we do this? After all, it's just tint…  The answer is simple.  We take our time with every vehicle.  Other shops actually brag about how fast they can tint your vehicle.  Not us.  We take our time.  We ask that you leave the vehicle for the entire day.  Your vehicle might be in our bay for 4-6 hours or more.  During that time, the doors are open and at times the key is on to allow the windows to be rolled up and down.  This can take a toll on your battery and run it down.  Each time the battery is drained, it cuts it's life expectancy down.  We don't want that for our customers.  You deserve your vehicle back in the same condition that you left it, don't you?  In most cases, our custom battery maintainers will actually return your battery to you in better condition than when you left it!
Protection
Next, the protection is applied.  With window tint, we are working all around and inside and of your vehicle.  We are leaning over your trunk or hatch and crawling in and out of the passenger area.  Again, our goal is to give you the vehicle back in the same condition that you dropped it.  We put in protective netting on your steering wheel, plastic seat covers and floor mats.  We use blue tape to protect the edges or your doors.  We use the same blue tape to apply plastic covers on your door panels.  We do this to protect from water run-off while cleaning or applying the tint.  Special non slip mats are laid on the exterior of the vehicle in any location where we might lean up against it.
Finally, Tint Time!
It is only at this point that the tinting process can go forward.  When completed, the tint work is run through quality control.  This is essentially a second set of eyes.  Someone who did not work on your vehicle looks over the new film.  They look for any imperfections and bring them to the attention of the window tinter.  If any are found they are corrected.
Check-Out
Once the QC process is completed, the protective materials are removed and disposed of.  The iPad is used again to check-out the vehicle.  All vehicle functions are checked again just like during the check in.  The vehicle is then backed out and the customer is notified that they may pick up.
Your Local Quality Tint Shop
All of this takes time, but it is the only way to offer the service properly.  I suspect that a lot of other shops would see this as overkill.  Ask these shops for  tour of their facility.  Then come to Mobile Edge and ask us for a tour of ours.  Can you save a few buck by going somewhere else? Probably.  Is Mobile Edge the very best value for your window film application?  I believe that we are.  You be the judge.