Mobile Edge has been selling and installing car amplifiers since 1994. Amplifiers have evolved a lot since then but they still do the same thing: Make music sound better and louder. Or at least that's what they are supposed to do. In this post we will cover 7 different things to consider when buying a car audio amplifier.
1. Be Sure You Are Getting What You Are Paying For
(Also known as Check Out The Fuses)
It's very tempting to buy that 2000 watt amp for $199. After all, 2000 watts is a lot of watts for $199! Before you plop down your cash, do yourself a favor and check the fuses. It is simple physics.  Power = Voltage X Current Draw X Efficiency Constant.. Average voltage of your vehicle may be around 13.5 Volt… Current Draw would be the total fuse rating of the amp and the efficiency constant is about .6 for Class AB amps and .8 for Class D amps.
Lets say the amp is fused at 50 amps and it is a class AB. Simple math says that it will produce 13.5 X 50 X .6 watts… about 405 watts. That is about the most that an AB amp fused at 50 amps can produce.
Normally, you will find that the better quality amplifiers will advertise a more exact rating. Check the fuse and do the math to make sure you are getting what you pay for.  For more detailed information, check out this post and this video.
2. Warranty Of The Amplifier
Buyer Beware! Be sure that you are getting a warranty on your amplifier! Many manufactures will not honor a warranty unless the amp was purchased from an authorized retailer. While, on the surface, this might not seem fair, please consider the reasoning behind it: Manufacturer's work hard to set up a distribution chain that they can trust. When their product is sold by one of their dealers, they know where the product was from the time it left their factory. When it is sold by an unauthorized dealer, the manufacturer has no way of knowing where the product has been or what might have been done to it. How could they offer a warranty on something that was not under their control?
Before buying an amp from anywhere, be sure to verify that the seller in question is indeed authorized. If you cannot find them on the manufacturer's dealer locator, then pick up the phone and call the company. If they are not authorized, you really need to think twice before making a purchase.
3. Physical Size Of The Amplifier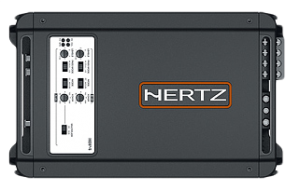 MAKE SURE THE AMP WILL FIT! Don't buy a huge amplifier and expect it to fit under your seat. Technology has moved along nicely in the past decade and there are many small (even tiny!) amps that produce a lot of good clean power. Don't let a small amp fool you.  A lot of good amplifiers come in small packages. Make sure it will fit where you want it to fit!
The amp to the right is a Hertz HDP4. It measures just 6.73″ X 11.18″ X 1.83″ but puts out a rock solid 150 watts into each of it's 4 channels.  An amp like this can power most systems and easily fit under most car seats.
4. Amplifier Wiring
Buy good wiring for your amp! Don't be fooled by the "to good to be true" deals on amp wire kits. Oxygen free copper (OFC) is king! The price of copper has gone through the roof and along with it, quality amp kits have risen in price.
Beware of CCA (Copper Clad Aluminum) kits. These kits are composed of a center conductor of Aluminum and an outer ring of copper. Copper is an infinitely better conductor of electricity than aluminum. In some cases a 4 gauge CCA cable will carry less current than an 8 gauge OFC kit.
Finally, there is a big difference in the "size" of the wire. Back in the day (10-15 years ago) 4 gauge was 4 gauge. It was slightly thicker than a sharpy and the coating was of a consistent thickness. Today, you need to be careful. A lot of Chinese manufactured kits are coming through with a very thick coatings and very little wire! A 4 gauge kit sometimes has less wire than a "real" 8 gauge kit. Buyer beware!
This is one of the better videos that I have found that demonstrates the difference between CCA and OFC kits.
5. Amplifier Feature Set
Make sure that you amplifier will do what you need it to do. Does it have high level inputs for direct connection to your factory deck? Does it have a subsonic filter for your ported subwoofer application? Is it stable to your desired ohm load? All of these questions and a lot more can be answered by a professional shop. They do this every day of their lives!
6. What Will This Amplifier Be Powering?
This is very important. Make sure that the amp will be compatible with the ohm load that you are going to be wiring it up to. If you overload your amp, it will die. Make sure that you are not buying a monoblok (1 channel) amplifier for a 2 or 4 channel application… It happens! Make sure that the amp has crossovers that are compatible with the application you need.
7. Buy A More Powerful Amplifier Than You Need
This might sound A$$ backward… It's not. In the 20+ years that I have been in this business, I can count on 1 hand the number of speakers that have been blown because of too much power. Nearly EVERY blown speaker that I have seen is the result of too little power! How is that possible you ask? I'll tell you.
Lets say you buy one of those 2000 watt jobs referred to in #1 of this post. We've shown that the most it would produce is 405 watts. You hook this up to your sub box and it disappoints. What do you do? You turn up the gain control of course! BAD MOVE! The gain is there to match the output of your deck to the input of the amp. It has nothing to do with the speakers or subs the amp is hooked up to. There is only one correct setting and it is determined by the deck not the speakers or subs. When you turn up the gain you create clipping. In simple terms, clipping kills speakers. Because the amp did not produce enough power, you artificially tried to boost the power. BAMMM. Fried speakers…
Buy more power than your speakers require. You will be able to keep your gains at the proper setting. This will make for better sound and lower the odds of damaging your speakers.
Conclusion
There are thousands of amplifiers available.  Some are good, some are not.  Use better judgement and the guidelines spelled out above and you will get better sound that will last for a long time.  If it seems too good to be true, it probably is.  As always, a professional specialist shop like Mobile Edge can give you great advice on quality product that will make sure that you enjoy every minute of your daily commute!