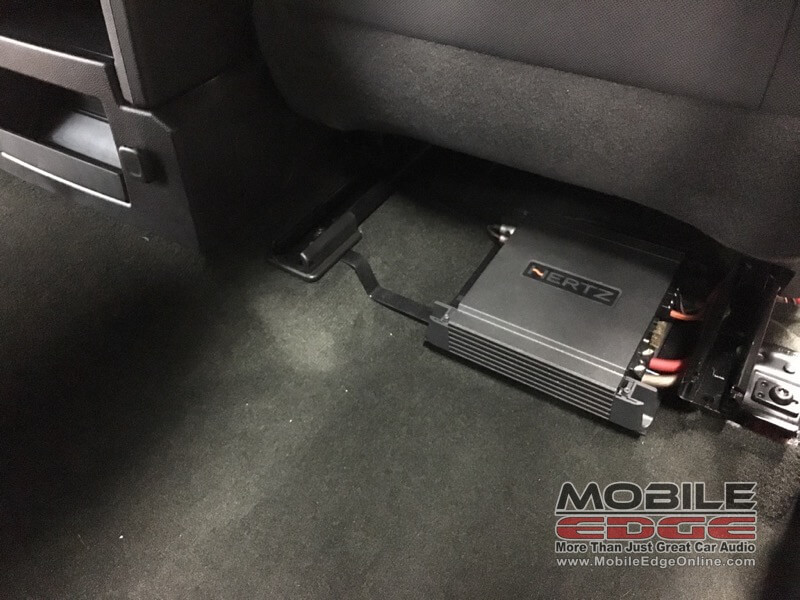 A client from Northampton, Pennsylvania, brought his 2016 Chevy Silverado to Mobile Edge with a simple request: He wanted more bass from the audio system. Adding subwoofers to factory audio systems is one of our most common requests. We looked at the truck with the client and brought out several different products to test-fit them. Once we had a plan in place, we scheduled an appointment to perform the installation.
Under-seat Amplifier Installation
We didn't want to drill any holes in the customer's brand-new truck and also didn't want to take up any valuable storage space to mount the amplifier. We created one of our custom steel mounting brackets for a Hertz HCP 1D under the passenger side seat. We bent steel brackets into shape and drilled them to use the factory mounting bolts for the seat. We used a strip of steel from each seat bolt, then another pair of strips, for the mounting locations on the amp. Once we welded these together, we painted the bracket black to conceal it and prevent it from rusting.
Concealed Subwoofer Enclosure
We used an Audio Enhancers subwoofer enclosure that was designed specifically for the Silverado. The enclosure mounts under the passenger side of the rear seat and has provisions for a 12 inch sub. We used a Hertz Dieci-series DS300 subwoofer in the enclosure. The sub is rated to handle 300 watts of power continuously and has a 1,200 watt peak. The HCP 1D amp produces up to 380 watts into a 4 ohm load, so this was a perfect match.
Highly Recommended Speaker Upgrade
With the addition of a 12 inch sub to the system, we suggested to the client that he might want to upgrade the front speakers to help keep up with all the bass. He agreed and chose a set of Hertz Dieci components. We installed the new speakers in the factory locations. We created a set of speaker mounting adapters out of ABS plastic by copying the shape of the factory speakers, using our router table and a flush-trim bit. We treated the adapters to a layer of HushMat sound-deadening to maximize their performance.
Silverado Bass Upgrade Makes Client Smile
With the system installed and tuned, it was time for the customer to return to Lehighton to pick up his truck. He had a listen to the system and loved the way it sounded. The front-mounted subwoofer level control allows him to fine-tune the system for his mood or his music without having to adjust the bass level on the radio.
If you are interested in adding a subwoofer to your car or truck, drop by Mobile Edge or contact us here.