A majority of the clients who come to Mobile Edge are looking for upgrades to their audio systems while being able to keep their factory radio. As the automakers include more and more features in factory source units, it is becoming harder to replace them. In fact, it is impossible in some vehicles. That doesn't pose a problem for our staff – we have the products and knowledge to create an amazing sounding audio system that uses the factory radio as its source.
Factory Radio Evolutions And Complications
A decade ago, we could use a simple, cheap, high-to-low level signal adapter to connect an amplifier to a factory radio. The signal between the radio and the speakers contained all the audio information we needed to build a great system. As car manufacturers started to learn about different audio processing technologies, such as crossovers, equalization, and time alignment and implementing them into their own factory systems, the ability to use these signals has become infinitely more difficult.
When an automaker tunes an audio system, the settings take into account the location and performance of each speaker in the system. If you change a speaker to something of much higher quality, then the equalization curve can work against you, making that new speaker actually sound bad.
How We Fix The Signals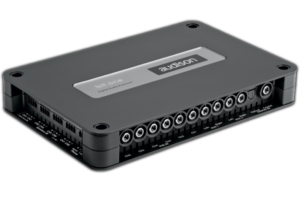 When we start to work on a new vehicle installation, we start off by analyzing the frequency response of the signal coming out of the radio or the factory amplifier. In some vehicles with separated out bass, mid and high range frequencies, we need to combine dedicated output channels for the individual components for a subwoofer, midrange or tweeter for a full signal so we can power new speakers. Products like the Audison bit One and bit Ten processors have the capability of automatically undoing factory equalization bringing it all back flat again. Having a full bandwidth (20 Hz to 20 kHz) audio signal with a flat frequency response lets us decide which frequencies get sent to what components. This gives us full control over system tuning, and the result is amazing sound quality.
Add A Little Bass To The Bottom
Once we have interfaced with a factory source unit, the world is our oyster in terms of what we do next. The options are endless. We often start speaker upgrades by adding a subwoofer to reinforce the bottom two octaves of the audible range (20 Hz to 40 Hz, and 40 Hz to 80 Hz) of frequencies. The next upgrade is to install new, better speakers in the vehicle. Check out this install in this Ford Taurus using the factory radio as an example.
Ah, I Can Hear You Now..
Factory speakers are designed to be inexpensive to save car companies money. Factory radio systems with "premium" name-brand badges still use very low-quality speakers. A nice coaxial speaker or a set of components installed in the factory locations will bring your system to life. For even better placement of your music, we can mount tweeters in your A-pillars. This will help make the music sound as if it's coming from right in front of you, rather than from your doors or dash.
That's The Sweet Spot
For the best performance, we use a Digital Signal Processor (DSP) to fine-tune the system. We can implement steeper crossover points and adjust time alignment settings for each and every speaker. We use tools like a Real Time Analyzer (RTA) to measure the frequency response of the system and adjust equalization. The result is a much greater focus of each instrument or performer in the virtual soundstage in front of you. The smoothed frequency response makes voices and instruments sound surprisingly real. Here's another awesome install using a factory radio in a Honda Accord as the source unit of a great sounding system.
Keeping It Stock? No Problem.. Come By Mobile Edge For A Consultation Today!
If you are in the Lehighton, Pennsylvania, area, drop into Mobile Edge. We would love to get to know how you listen to your music and have a look at your vehicle. Armed with that information, and your answers to just a few more questions, we can get started on designing an amazing audio system for you. Contact Us Here for more information about any of our products or services.