At Mobile Edge, we love providing our clients with products they will enjoy and benefit from on a daily basis. Many people live extremely busy lives, so we strive to offer products that will enhance life's daily tasks and are convenient. Recently, a client came to our store looking for a remote car starter and our team helped him find the perfect match for his lifestyle with DroneMobile and Apple Watch.
Factory Remote Starter Gets an Upgrade
This client had just purchased a brand-new vehicle, which came with a remote starter. Why was he in our shop? His factory remote starter did not have adequate range for him to be able to start his car from his office. He came to us for an upgraded product that would give him much longer range. He was in the right place, since Mobile Edge has many solutions to this situation.
Apple Watch Becomes Your Remote
One request of our client was that he'd prefer not to have a remote on his key ring. Any additional items hanging from his already-full key ring did not sound appealing. Right then, we knew that the DroneMobile would be a great option, since it does not have a remote. In fact, it is controlled by a free app that you download on your smartphone (monthly subscription is required). The DroneMobile also has unlimited range, since it runs on cellular data.
Our sales expert then noticed that our client was wearing an Apple Watch.  This was exciting news! He started to tell this customer about how the Apple Watch can be used to control the DroneMobile remote start. We were even able to take him outside and show him how it all works on our own demo vehicle. When he saw that with just a few taps on his Apple Watch, his vehicle could be running, he was sold.
Apple Watch Makes DroneMobile Even More Convenient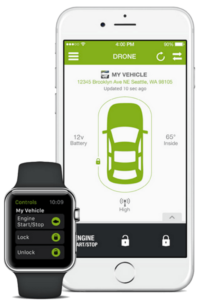 Being able to control your vehicle from your smartphone is a pretty great thing! If you own an Apple Watch, convenience and accessibility are important to you. When you pair the DroneMobile with an Apple Watch, you really do get the best of both worlds.
When our client is at his desk and his phone is tucked away in his briefcase, he is able to start his vehicle right from his Apple Watch. He doesn't have to worry about an additional remote on his key ring, because its already with him, on his wrist.
Stop by Mobile Edge Today To See DroneMobile And Apple Watch
Whether you own an Apple Watch or not, Mobile Edge can help you find products that will benefit you for years to come. Stop by our store in Lehighton, PA, today to chat with one of our team members. You can also contact us here for more info on our products and services.