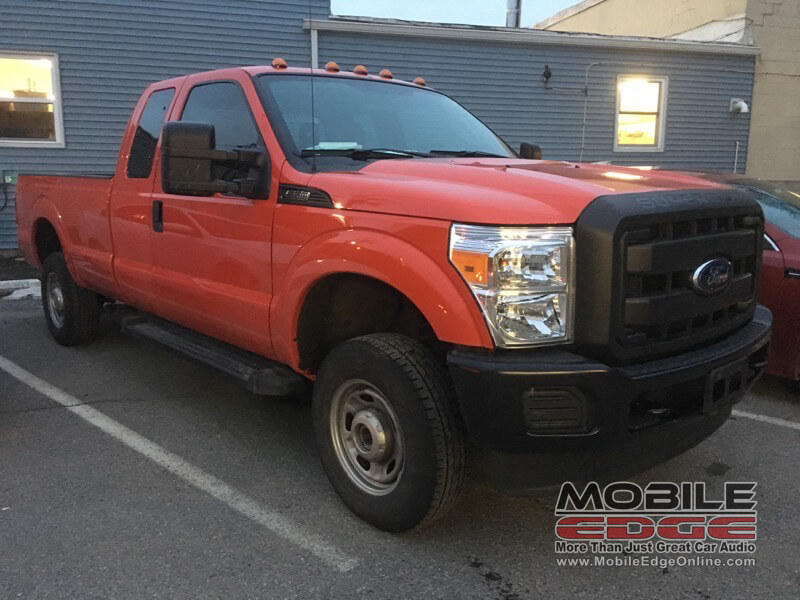 A client from Hazelton, Pennsylvania, found Mobile Edge while looking for someone to add keyless entry to his base model 2016 Ford F-250. He had been looking for a new work truck and found a great deal on this 2016 F-250 – but it was as bare bones as they come. After spending some time in our showroom, experiencing all the electronic goodies we have on display, his shopping list grew and grew. We provided the client with a quote to do all the work he wanted. With his approval, we scheduled an appointment to make his list of Ford F-250 upgrades happen.
Power Locks and Windows
We used a three-switch power window kit from Spal to convert the windows to electric motor control. Spal includes a nice angled panel to mount the driver's door switches and clean trim pieces to cover the manual window crank shaft.
We installed a power lock solenoid kit from Spal in each door. The power lock actuators mount in each door and push and pull on the factory lock rods. We tied the actuators into an aftermarket remote control convenience system.
Remote Starter
Since the client wanted a keyless entry system for the door locks, it was not too much more work to upgrade to a full remote starter system. We used a Compustar 7200S control module to handle the locking and remote start duties. The client chose a 2WG9-SP 2-way remote kit. The Prime G9 remotes offer up to 3,000 feet of range – we refer to this as 6x power range.
Dual Camera Systems
While perusing our showroom, the client noticed our backup camera system display. Since he often uses the truck for towing, having a camera would make it easier to back up to the trailer. We installed an Optix RVC800IRB2 license plate-mount camera system and angled it so the hitch was clearly visible in the image. For a screen, we used an Accele RVM430TG replacement rearview mirror with an integrated 4.3-inch display for the camera image.
We added a Compustar CD3200 dual-camera dash cam system to record both forward- and rear-facing images to protect the client and his property.
Ford F-250 Upgraded Audio
To improve on the factory audio system, we installed a JVC KD-R875BTS receiver with Bluetooth in the dash and connected a SiriusXM receiver to it. A set of SRX572 5×7-inch rear speakers rounded out the audio system.
Window Tint
We tinted the truck windows with 3M Color Stable 35% film on the driver and passenger doors, and 20% film on the rears.
Happy Client Loved His Ford F-250 Upgrades
The client was thrilled with the new upgrades. If your truck is in need of upgrades or accessories, then drop into Mobile Edge in Lehighton, PA, or contact us HERE.