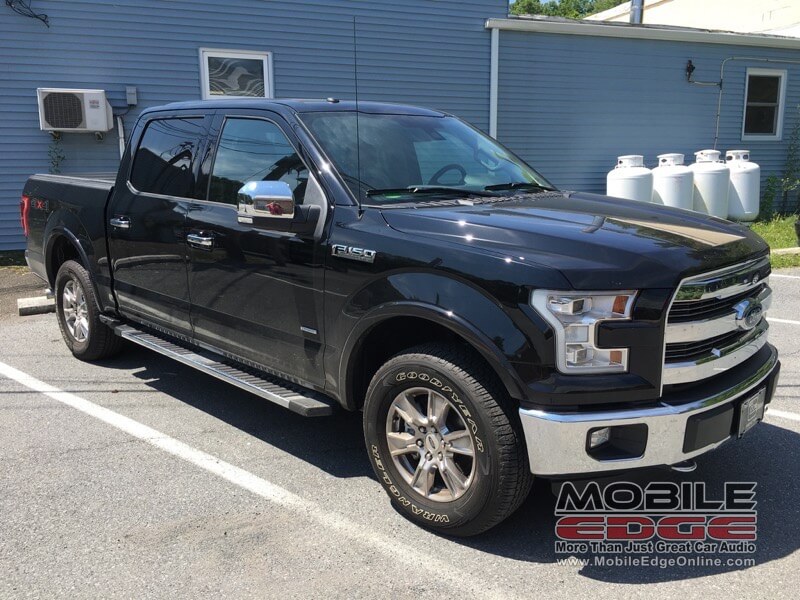 A client from New Holland, PA, saw photos of the Mobile Edge Demo Truck on our website and immediately knew he wanted something similar for his 2016 Ford F-150 audio system. He contacted us about doing a similar system in his truck and spoke with Bob on the phone. We made an appointment for him to listen to our demo truck and confirm that it was going to sound exactly the way he wanted. He loved the way the truck sounded, so we scheduled an appointment.
Factory Source Unit Integration
We used an Audison Prima AP8.9 bit amplifier in the system. This amplifier includes a digital signal processor and has factory amplifier integration connections built in. The integration connections allow us to extract an audio signal from the factory amplifier before applying our crossover, equalization and time alignment settings based on the new speakers the client chose, and their location.
Custom Amplifier Installation Bracket
Mike welded up a bracket that would allow the compact Audison amp to be installed right beside the factory amp. The factory amplifier mounting location had to be moved over a little to make room. Mike used strips of 1-inch wide steel and welded them together to make the new mounting bracket. He drilled and tapped new mounting holes for the factory amp and the new amp before bolting the whole thing into the truck.
Compact Subwoofer Enclosure
We built a compact subwoofer enclosure that fits behind the rear seat against the back wall of the truck. The enclosure is home to a Hertz Energy Series ES F25.5 subwoofer, which is a 10-inch subwoofer that requires less than 3.5 inches of mounting depth. We recessed the sub into the enclosure to protect the cone from hitting the back of the seat.
Door Speaker Upgrades
The client chose an Audison Prima APK 165 6.5-inch component speaker set for the front of the truck. We installed the midrange drivers from the set in the doors on custom ABS plastic mounting adapters. We treated the adapters to a layer of HushMat and a set of F.A.S.T. speaker rings to maximize their performance.
Easily Accessible System Control
We wrapped up the installation by mounting an Audison DRC remote control in the storage pocket at the leading edge of the center console. The DRC works with the AP 8.9 bit to allow the client to adjust the subwoofer level and select different tuning presets.
Excited Client Loved His New F-150 Audio
The client returned to Mobile Edge, excited to have a listen to his truck. He loved the sound and that it was easy to use. If you are looking for better sound from your vehicle's audio system, drop by Mobile Edge in Lehighton, PA, or contact us here.