Choosing a window tint shop can be confusing. "Best Price" "No Bubbles" "20 Years in Business"… How do you know which shop to choose? There are major differences between tint shops and you don't want to make a bad investment. After all, window tint is something that you have to live with for years to come.   It's either going to make you proud every time you look at it or make you sick!  Hopefully after reading this post, you will have the tools you need to make an educated decision. (Editor's note:  I have provided links throughout this post to illustrate what you should be looking for.)
Ask Your Friends Which Tint Shops Did Their Vehicles
Take a close look at the tint work on other people's vehicles. Do you see bubbles, cracks, peeling, or signs of turning purple? If not, you might want to find out where this particular vehicle was tinted and add this shop to the list of shops to visit.  This is simply a starting point!   You still have work to do!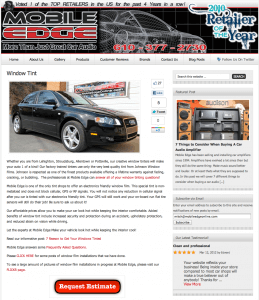 Visit the Website of Tint Shops That You Are Considering
No website? That would be a definite strike against them. Quality shops are proud to display their workmanship in any way possible. The website should not only show pictures of the work, but also help to educate customers in an effort to help them make a decision.  Great shops are not afraid to share information and show off their expertise.  As I write this, the year is 2012.  EVERY business needs a quality website, especially a visual business like window tinting.
Read Online Reviews
While online reviews should not be your only basis of consideration, you can usually learn a lot about the workmanship and the general business practices of the shop. You should be looking for a tint shop with a lot of reviews and the majority being positive. Nobody is perfect and you might find some negativity.  Be sure to consider how this negativity is handled. Some places to look for online reviews are Google Places, Yahoo Local, Yelp, Merchant Circle, etc. Many times you can find reviews on the companies own website.  Put more trust in the independent review sites since the owner has no control over those reviews.
Visit the Tint Shop!
Unless the steps above make you 100% confident in your decision, you need to visit the shops you are considering. Nothing short of a visit will help you decide whether this is the right shop for you or not. Look at their showroom? Is it clean? Ask to see their installation area. Is that clean? You can't expect a quality job in an unclean environment (This does not mean that you should expect an area fit for producing computer chips!). Are the employees professional? Are they dressed appropriately? Do they explain things clearly? How long have they been in business? How long have the window tinters been employed at this facility? These are all things that you will need to observe and ask the employees. The shop should make you feel totally comfortable in handing over the keys to your ride without any worries at all. If this is not the case, you haven't found the right place yet.  For more information on this step, see our post on what to look for in a quality tint shop.
Ask About the Shop's Tint Warranty
Does the shop stand behind its work? If so for how long? In this business, it is not uncommon to have a warranty on tint work for as long as you own your vehicle. This is important since mistakes can happen and you don't want to be left with a poor quality tint job on your ride.  Make sure you have a clear understanding of the warranty.  If the shop is evasive of unclear about this, I would scratch them from your list of considerations.
Brand of Tint
Here is an area where I believe some might disagree. Just hear me out and be sure to read this entire paragraph! If you trust the shop you are dealing with, BRAND OF TINT DOES NOT MATTER. If you have decided that Shop A is the best choice, you can rest assured that others have decided the same also. This makes for a busy shop and one that takes care of their customers. The last thing that a busy, quality shop wants to do is FIX MISTAKES or REPLACE DEFECTIVE TINT! They are going to work hard to select a quality brand of tint that does not cause them headaches. These guys are the professionals. They know tint. If you are counting on them to take care of your car and do the job right, you really need to trust their judgement on the tint that they offer.
I will say that the exact opposite can be true if the shop does not measure up to the above criteria. If the shop is dirty, the employees unprofessional and the reviews mediocre, you can count on the fact that quality tint was not at the top of their list. CHEAP, inferior tint probably was.
PRICE!
Notice I saved this for last. In my opinion, if the shop passed all the tests above, price is not a consideration. Most people get tint shortly after making a vehicle purchase. Most people will keep a vehicle for about 3 years (36 months). That said, follow along with me on this exercise:
Shop A is everything you ever wanted in a tint shop. Clean, friendly, great online reviews, informative website with tons of pictures, great warranty and they've been in business for almost 20 years. They will charge you $275 to tint your vehicle.
Shop B Just opened up. They have no website (or one that looks like it was thrown together in less time than it took me to write this post). Reviews are non-existent. The shop is cluttered and dirty. The salesperson looks like you interrupted him for changing his oil. Their price to tint your ride is $199.
Think about this a second. On the surface it looks like a big difference.  In reality, it is $2 a MONTH over the 3 years you will own your vehicle.. For less than a cup of Starbucks or a can of Monster, you can have total piece of mind that your tint job will be done right. If it isn't, you've got a reputable, established shop that will stand behind the work and make it right. The shop that is in business for 20 years didn't do that by accident. They did it by making people happy and exceeding their expectations. $2 a month buys you the pride of knowing that your vehicle looks great and will continue to look great for as long as you own it.  A great question to ask yourself is "Do you want to trust your vehicle to the lowest bidder?"
Why is Shop A more expensive?  Could it be that the owner is greedy and wants to make a quick buck?  Highly unlikely.  As stated above, if Shop A passed all the tests mentioned earlier, they have an established business with happy employees and customers.  Retaining employees costs money.  Maintaining a clean and functional work environment costs money.  HAVING INSURANCE costs money.  Paying taxes costs money.  At the end of the day, both owners are probably making the same profit on each sale.  But the owner of Shop A is certainly sleeping better at night knowing that his shop is providing great work and producing happy customers.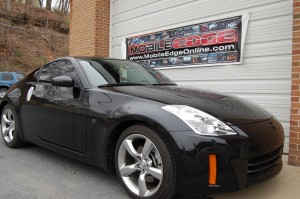 Conclusion
Getting your vehicle tinted can be confusing and intimidating. It is really an exercise in common sense. Do your homework and visit the shops. Talk to the employees and ask questions. Look around the shop and ask to see the installation area. Tie all of this together and you should have an idea of who is the right choice for you.  Brand of tint should have little impact on your decision. Price should only come into play when all other things are equal.
I submit that, with nearly 20 years in business behind us and numerous industry awards for customer service and quality installations, Mobile Edge is an excellent choice to have your window tint work done in the Lehigh Valley, Poconos, and all of Eastern PA.