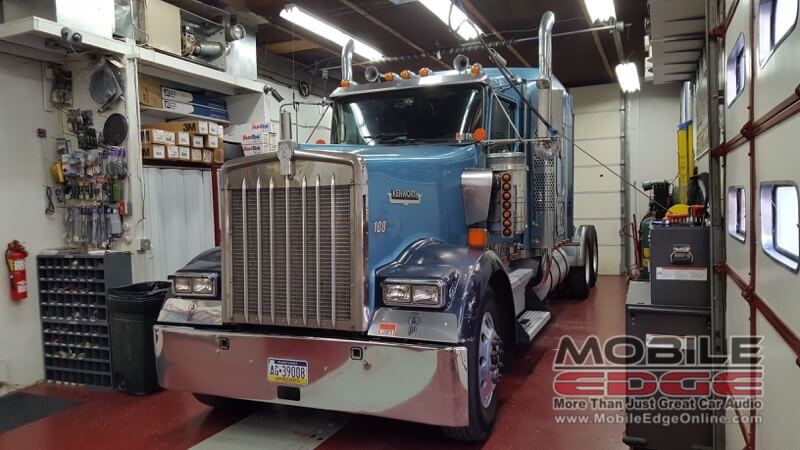 A client of Mobile Edge from Jim Thorpe dropped by the store to talk about upgrading his 1999 Kenworth W900 audio system. We've built a few systems in his personal vehicles for him, and now he wanted something enjoyable in the truck he spends most of his time in. After talking to the client about his goals for the system, we put together a collection of products that would give him the features he wanted and amazing sound quality.
Transport Truck Radio Upgrade
At the top of the upgrade list was a new radio for the truck. The client wanted something with Bluetooth so that he could stream music from his smartphone. We installed a JVC KD-X340BTS digital media receiver in place of the original radio and added a SiriusXM SXV300V1 satellite radio tuner module. Satellite radio is a great solution for truck drivers as they can choose the genre of entertainment they want and enjoy it without interruption all day long.
Memphis and Hertz Speaker Upgrades
The next step in the process was to upgrade the speakers in the truck. We mounted a set of Hertz DSK165.3 6.5-inch component speakers on the roof of the cab and a set of Memphis Car Audio PRX52 5.25-inch coaxial speakers in the rear bunk area.
A Hertz DS300 subwoofer in a ported enclosure fit nicely under the bunk in the rear of the cab. This 12-inch subwoofer includes a grille to protect the face of the sub from damage while the client is moving around the vehicle.
Mobile Edge Steel Amp Rack
The client chose a Hertz HCP5D five-channel amplifier to power the system. This amp will produce up to 65 watts per channel for the front and rear speakers and 330 watts for the subwoofer. We mounted the amp to the side of the bunk using an amp rack we welded together from two pieces of box steel and two flat plates. The amp is connected to the source unit using Audison Connection FT2-Series interconnect cables.
Kenworth W900 Audio System Tuning
After we finished mounting the equipment in the truck, it was time to fine-tune the system. Tuning is one of the most important parts of the installation as it determines how the system will sound. We set the sensitivity controls on the amp to match the output capabilities of the source unit and configured the crossovers to ensure the subwoofer output blended seamlessly with the midrange speakers.
The client was very happy with the way his new Kenworth W900 audio system sounds. If you are in the Lehighton area and are looking for an audio upgrade for your truck, drop by Mobile Edge. You can click the button below to send us an e-mail if you have any questions.