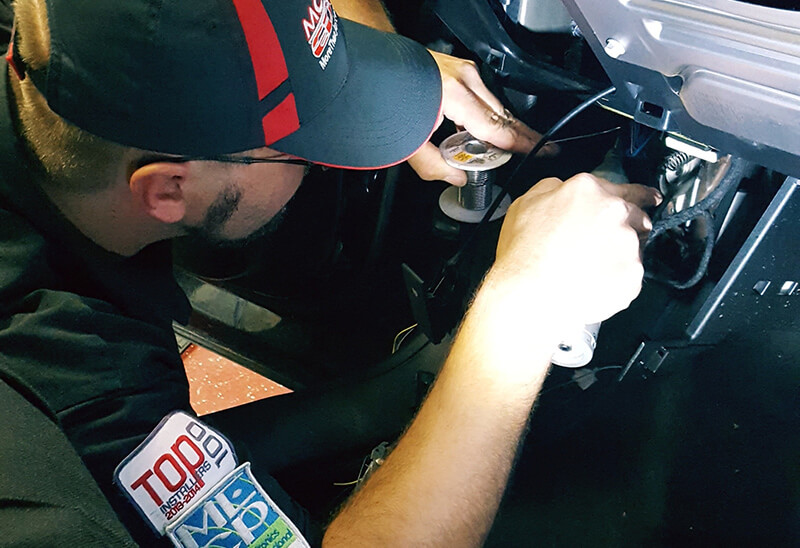 If you are in Pennsylvania or New York, Mobile Edge in Lehighton offers the best remote car starter solutions in the area. What is it that differentiates one starter from another or makes our solutions the best? The answer to that comes in three parts: expert customer service, the most-reliable products in the industry and the best installation practices anywhere.
Customer Qualification
When you walk into Mobile Edge, Bob and the team will ask you a lot of questions about where and how you intend to use your remote starter. Our goal is to understand your requirements so we can suggest a system that has the features and performance you want. You don't want a remote starter that doesn't have enough range to let you start your vehicle from your home or office.
The Best Remote Car Starter Products
We aren't shy about the fact that we sell Compustar remote car starters. We have tried every brand in the industry and none have provided the performance, reliability and vehicle compatibility that Compustar does.
Remote Car Starter System Installation
Even the best starters in the world won't be reliable if they aren't installed properly. We have honed our installation process over the past 23+ years to evolve with changes in vehicle design and to improve reliability. How we make electrical connections, where we run wires, and how we protect cabling and equipment mounting locations are each fundamental to ensuring our clients get the best remote car starter systems possible. Let's take a close look at a few things we do to make our installations unique.
Pre-installation Preparation
Before we start working on your vehicle, we prepare the remote starter on our bench. We'll program the vehicle integration module and configure the system for your application and the options you have requested. Often, we perform this process before you show up to save you time.
Vehicle Check-In Process
Before we start work on your vehicle, we inspect it. We note any physical issues on or around the vehicle, like dents or scratches, and test all the main electrical systems to make sure everything is in working order. We document everything so we know the car will leave in the same condition as we received it, or better.
Battery Maintenance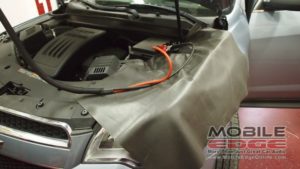 Some remote starter installations can take several hours to complete. During this time, your doors are open, the hood is up, and we are often cycling the ignition on and off to test wires. We connect a battery charger to every vehicle to ensure the battery leaves with more charge than when it arrived.
Interior Protection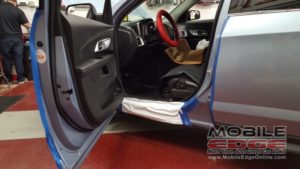 We use heavy-duty seat, floor and center console protective mats to safeguard your vehicle interior against damage. We also protect the contact points on the door sill and fenders with crash wrap and painter's tape.
Antenna Location
When we install your remote starter, we choose a location for the antenna that keeps it out of your field of vision while ensuring it operates reliably.
Wire and Connection Testing
Wire connection information is available to us from resources like Mitchell On Demand and ProDemand. Even with this information, we test each wire to confirm functionality before we make connections.
Electrical Connections
After we make a physical wire connection, we solder that connection. Soldering involves melting a mixture of tin and lead solder into the joint. The solder improves conductivity, strengthens the mechanical connection and prevents corrosion by eliminating exposure to the elements.
Connection Protection
Completing each connection is a two-step process. We protect the solder connection with premium 3M vinyl electrical tape to eliminate the chances of a short circuit. Once the connection is safe, we protect the wire or bundle of wires with split loom tubing. Here you can see a tachometer signal connection under the hood of this vehicle.
Wire Protection
Hearing buzzes and rattles while you are driving is annoying and distracting. We use automotive-grade cloth tape to loom all of our wiring to prevent these noises and keep the installation looking neat and tidy. The process takes a little extra planning, but the results are worth it.
Hood Pin Safety Interlock
All of our remote starters feature several safety and security interlocks. One of the most important is the hood pin. If your hood is open, the remote starter will not start the vehicle. This is very important when a mechanic or technician is working on the engine. If your vehicle doesn't have a hood pin, we add a mercury switch to monitor the hood position.
Hidden Wiring
Our goal is to integrate the remote starter system as seamlessly as possible into your vehicle. In many cases, our wiring will blend perfectly with the factory wiring once we are done.
Contact Information
We add a Mobile Edge sticker to the door jam after every installation. If anyone is working on your vehicle and has questions, they can contact us quickly and easily.
Contact Us for the Best Remote Car Starter Solutions
If you are in the market for a remote starter, drop by Mobile Edge, give us a call at 610-377-2730 or click the red button below to reach us by e-mail.