If you've looked at new car pricing and availability in the last year, you know that getting a deal on the car or truck of your dreams is a fantasy. The shortage of electronics and computer chips has made manufacturing new vehicles extremely difficult. The ones that do make it to the showroom floor are often missing features that identical models had the year before. Mobile Edge in Lehighton has a great idea to alleviate the frustration of buying a new car or truck: Why not upgrade the vehicle you have?
Unless your vehicle is having mechanical problems or the body is rusting away, many of us can easily stretch out this relationship for another year or two. Consider an upgrade by the team at Mobile Edge in Lehighton to get the features or comfort that many associate with a new vehicle. Let's look at a few of our most popular solutions. 
Entertainment and Infotainment System Upgrades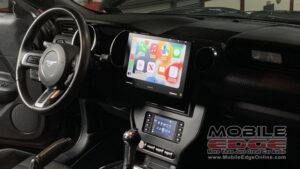 A variety of options will let you add modern smartphone integration solutions to your existing vehicle. We can install a new single-DIN radio to add Bluetooth hands-free calling and audio streaming options. A multimedia receiver with Apple CarPlay and Android Auto takes phone integration to another level by allowing you to use voice commands to make phone calls or listen to incoming text messages and dictate a response. You can ask these systems to provide you with detailed turn-by-turn navigation directions to almost any address or business in North America. The big display shows you exactly where you're going, and clear voice prompts let you know when a turn or exit is coming up. Of course, you can ask to hear any of the songs, albums or artists whose music you've stored on your smartphone or select from a streaming service like Pandora, Spotify or Tidal.
Of course, we specialize in car audio upgrades that will make your music sound amazing. We have source units that will play 24-bit, 192kHz WAV, FLAC, ALAC and DSD audio files. We have speakers that reproduce music with lifelike clarity, dynamics and impact. Of course, our amplifier selection ranges from affordable models to state-of-the-art solutions with advanced digital signal processing to make your music sound as if the band is in the vehicle with you.
Subwoofer upgrades are one of our most popular car audio enhancements. Even cars and trucks that came with a premium audio system can benefit from a dedicated high-performance subwoofer and amplifier to reproduce bass that extends low and sounds amazing.
Convenience and Security Upgrades
Our Compustar remote car starter upgrades are a great way to make it much more comfortable to get into your vehicle on a hot summer day or cold winter morning. We have solutions that work with automatic, CVT and manual transmission vehicles with gas, diesel and hybrid drivetrains. Our team will help you choose a remote key fob solution that's easy to use and provides enough range to ensure that you can start your vehicle from your home or where you work. We also offer the DroneMobile smartphone control system. You can be anywhere in the country, and as long as you have access to the internet, you have control of your vehicle.
Worried about someone stealing a set of wheels or the catalytic converter from under your truck or SUV? Our Compustar security systems feature an advanced digital impact/tilt/motion sensor that will sound the alarm and send you an alert if someone is tampering with your vehicle.
Add Style and Functionality to Your Car or Truck
Mobile Edge offers premium 3M window tinting services that can enhance the appearance of your vehicle while making it much more comfortable. Our Crystalline and Ceramic IR films block heat energy to ease the load on your air conditioning system in the summer and make your vehicle more comfortable. All our film solutions block at least 99% of the ultraviolet energy from the sun to protect your skin.
If you own a pickup truck or SUV, let our automotive enhancement experts help you choose a set of side steps, upgraded front and rear bumpers, a toolbox or a tonneau cover to improve the functionality of your vehicle. We can install high-performance lighting upgrades so you can see farther down the road or light up even the most challenging trails after the sun sets.
If your vehicle didn't come with a backup camera system, we can help. We have many solutions that integrate with the color display on a factory-installed infotainment system. If you don't have a screen in the dash, we have replacement rear-view mirrors with a built-in display that will show the camera image. We can even add a forward-facing camera to a sports car, truck or SUV to make parking and maneuvering safer.
Prevent Speeding Tickets with a Radar Detector
We know it's easy to let your vehicle speed creep up to the point that law enforcement will give you a ticket. Our radar detector and laser defense solutions can help keep you safe by alerting you when the police are using speed measurement devices. We have windshield-mounted portable solutions that excel at detecting X-, K- and Ka-band police radar and will let you know when laser detection is being used. For the ultimate protection, our custom-installed radar detectors will prevent an officer using lidar from getting a measurement until you have checked your speed.
Upgrade Your Car or Truck at Mobile Edge
From a simple USB charging port upgrade or the replacement of a damaged speaker to a custom audio system upgrade, the mobile enhancement experts at Mobile Edge in Lehighton are here to help. We invite you to drop by our store and talk to one of our product specialists about your needs. If you can't get to the store during regular business hours, give us a call or click the red icon below to send our team an email. We look forward to assisting in making your current vehicle more comfortable and enjoyable until the new car shortage has subsided.