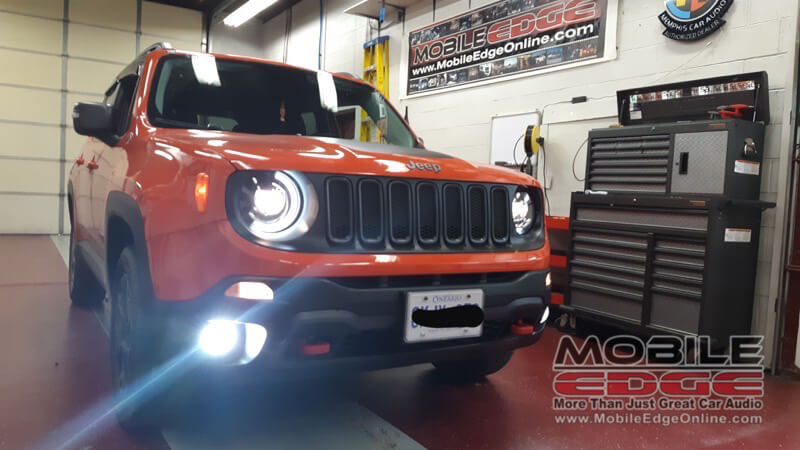 Recently the team at Mobile Edge received an inquiry about a lighting upgrade on a 2015 Jeep Renegade from a client in Keswick, Ontario, Canada. Its owner had been looking for a headlight and fog light upgrade and found us, thanks to a few articles about lighting that we have on our website. In most cases like this, the client will search elsewhere after finding out that our shop is more than seven hours away. With that said, this client was so impressed with our customer service and attention to detail, he decided he wanted to make the 500-mile drive to Pennsylvania to get the work done.
Jeep Renegade Lighting Upgrade
The client drove down to Lehighton the day before the installation appointment so that he could drop the car off at the store first thing in the morning. As we often do with out-of-town clients, we helped arrange a rental car from Enterprise so that he could explore Carbon County while we worked on his vehicle.
To get the project started, we applied protective tape to the edges of the fenders and removed the front bumper cover and grille to gain access to the headlight assemblies. We removed the lights to make way for a set of Spyder Auto XTUNE replacement headlights. These lights feature a white LED accent light around a centrally located projector. Our team integrated the wiring into the factory control system, taking care to ensure that the accent lights would come on when the vehicle was started. Having what is known as Daytime Running Lights is a requirement for all vehicles sold in Canada, and they need to be on all the time unless the headlights are on.
Fog Light Bulb Upgrade
Once the headlights were in place and we had confirmed that they were aimed properly, we installed a set of XKGlow LED bulbs in the fog lights. These bulbs provide significantly more output than the factory-installed incandescent bulbs and help light up the area in front of the vehicle.
Lehighton's Automotive Enhancement Experts
We had the light upgrade on this Canadian Jeep Renegade finished and tested by early afternoon. The client returned to the shop and dropped off the rental car. We showed him the work we had done, and he was not only thrilled with the way the Jeep looked but happy that he had chosen to come see us to get the work done. He told us that finding someone he trusted with his vehicle was his top priority. If you are interested in upgrading your car or truck, call Mobile Edge in Lehighton or send us an e-mail to schedule a consultation using the big red button below this post.