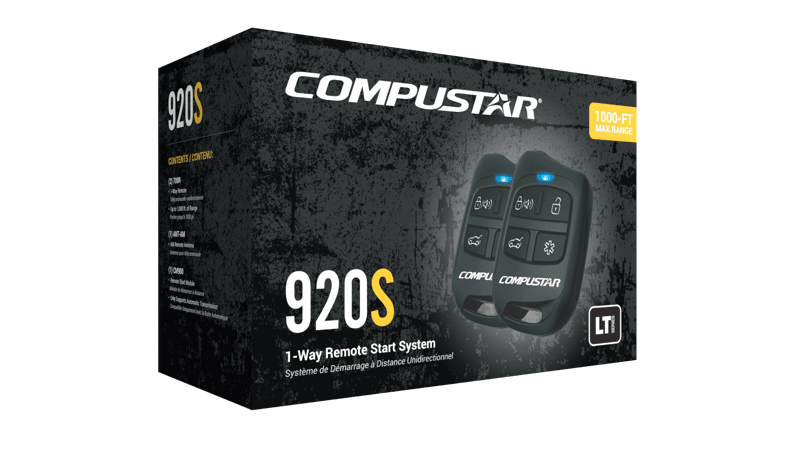 When it comes to remote car starters, the Compustar CS920-S from Mobile Edge in Lehighton offers exceptional performance, reliability and value. This remote starter system includes a pair of four-button remote controls that make remote starting, locking and unlocking your doors and popping your trunk easy and intuitive. Let's check out the details of this aggressively priced system.
Convenient Controls
The pair of remotes included with the Compustar CS920-S are rated to provide up to 1,000 feet of range. This is almost 50 percent more performance than our standard 1x Power solution and helps to ensure your car or truck starts when you push the button. As we mentioned, the four dedicated buttons on the remote make locking and unlocking easy. You can even access a pair of auxiliary outputs for power sliding door control using a combination of buttons. Valet mode, horn honks and passive/active arming functions can be turned on and off using additional button combinations.
Vehicle Compatibility
The CS920-S is compatible with automatic and CVT transmission vehicles only. Most push-to-start and keyless entry vehicles are also compatible with this remote starter, but be sure to check with us on your specific application.
Installation and Attention to Detail
Every installation we perform is given the same fanatical attention to detail. We protect your vehicle interior, install a hood pin and test and double check every electrical connection we make. All of our wiring is soldered and wrapped in split loom or cloth tape to mimic the factory wiring for a neat and tidy appearance.
Once we are done with the installation, we will ensure you are comfortable with the operation of the system. We will review each feature with you and are always here to answer any questions you may have.
Check Out the Compustar CS920-S Today!
If you are shopping for a remote car starter, then drop into Mobile Edge and ask about the CS920-S. We'll make sure it has all the features and performance you need, then provide you with a no-obligation quote to integrate one into your vehicle. For more information, give us a call at 610-377-2730 or e-mail us using the contact button below.