The Compustar P1TWG15-FM remote kit from Mobile Edge in Lehighton offers great remote starter range and an intuitive design. Also known as the PRO 1-Way G15 remote, this kit includes a pair of remotes to ensure everyone in your family and office can use the vehicle. Let's look at this new remote kit in detail.
Great Range at a Great Price
The Compustar P1WG15-FM remote uses FM transmission technology called FMX to provide up to 3,000 feet of range, or what we call 6x Power compared to our most basic solutions. More range means that you can not only start your car or truck from farther away, but you get better performance when you are in a house, apartment or building. FM transmission technology doesn't transmit much more power than AM, but the signal offers better noise rejection, so it works over longer distances.
No Learning Curve
All multi-button Compustar remotes feature easy-to-understand icons on the buttons. The locking, unlocking, remote start and trunk release functions are intuitive. Access to enhanced features like auxiliary outputs is available when you combine multiple buttons.
Long-term Reliability
One of the many reasons we have partnered with Compustar is because of the reliability of its products. Compustar remotes are designed around a heavy-duty plastic case that can handle an impressive amount of abuse. The buttons are all on a single rubber membrane that also helps keep water and dust out of the remote. While not waterproof, this also helps the remote last longer.
System Flexibility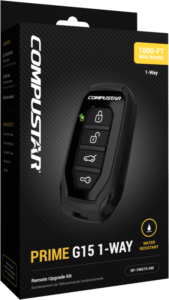 Compustar sells its remote starter systems using an à la carte model. We will help you pick the right remote solution for your application, then pair that with one of the 7000-series or new DC-series brains to control your vehicle. If you ever want to upgrade to an extreme range solution or add a DroneMobile, the modular design makes that easy.
Check Out the Compustar P1WG15-FM Today
When it's time to add a remote starter to your vehicle, drop into Mobile Edge. We think you'll be impressed with our approach to remote car starter system design and installation. For more info, click the CONTACT button below.