If you are in the market for a remote car starter, drop into Mobile Edge in Lehighton, PA. We are experts in the sales and installation of remote starters for all makes and models of vehicles. We feature Compustar products – one of the most respected brands in the remote starter industry. Compustar uses a modular philosophy to create solutions for consumers. Pick a control module for security, remote start or a combination system, then add the remote control kit that best suits your needs. Our longest-range one-way kit is the Compustar RF-P1WG7-SP.
Full-featured Remote controls
The RF-P1WG7-SP includes a pair of one-way four-button remote controls. The buttons are labeled with icons for locking, unlocking, remote start and trunk release functions. If you have a trunk, hatch or sliding door and want to control it, this is a great remote solution. Pressing combinations of buttons on the remote will activate auxiliary outputs. For example, the power tailgate on a Dodge Caravan could be on the trunk release, and the power sliding door could be on auxiliary output 2.
Long-range Performance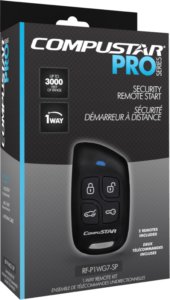 When we discuss remote control range, we reference the performance of the system to a base-model system having about 500 feet of real-world range. The RF-P1WG7-SP remotes offer 6x power. This range translates to as much as the remote working from up to 3,000 feet of distance between you and your vehicle. These remotes, also known as the Pro G7 models, have a water-resistant design that keeps them protected from accidental water damage, as well as dust and grime that can cause buttons to fail on lesser products.
Premium Products and Protection
Compustar covers its control modules with a lifetime warranty against manufacturing defects. The Pro G7 remotes include a three-year warranty as part of the Pro line. We can integrate this remote starting solution into vehicles with gasoline or diesel engines. Manual transmission vehicles, keyless entry vehicles and vehicles with push-to-start ignition systems are also compatible with the Pro G7 remote solution.
If you are shopping for a remote car starter for your car or truck, drop into Mobile Edge today. We'd be happy to put together a quote on a system like the Pro G7 for your vehicle. Contact us here for more information about our products or services.