When it comes to upgrades for your pickup truck, few solutions offer the value and convenience of the Leer HF650M from Mobile Edge in Lehighton. Also known as a tonneau cover, the HF650M turns the bed of your truck into a clean, dry and secure place to store tools and personal belongings. Let's take a look at its features.
Leer Hard-Folding Truck Bed Cover
The HF650M is designed to prevent dust, debris and water from getting into the bed of your truck. The extruded aluminum mounting rails have a foam gasket that seals them against the bed rails. Each panel of the cover also has rubber seals around its perimeter. Once in place, the cover sits flush with the truck bed's side rails for a clean and tidy appearance.
Unlike a soft roll-up cover that can be cut with a knife, the Leer HF650M features folding, dent-resistant, fiberglass-reinforced plastic/polymer panels that are designed to prevent thieves from stealing your belongings. The panels feature Leer's CYNC latching system that makes it incredibly easy to fold each section from either side of the vehicle. The cover has a textured matte black finish that matches the plastic rail covers on many vehicles.
Leer backs the HF650M with a three-year warranty that covers defects in materials and workmanship.
Access Your Truck Bed Quickly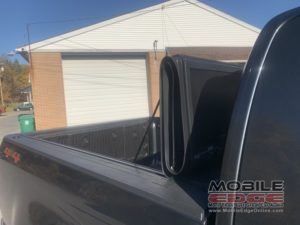 If you have a large item like a dishwasher that needs to go into the bed of your truck, you can flip the cover open and secure it in place using the provided hold-down latches. For even larger items, the cover can be lifted up against the rear window of your vehicle. Leer includes a pair of quick-release support rods that attach to the rail so that the cover will stay in this position even if you're driving on the freeway.
If you need every inch of depth from your truck, don't panic. The cover can be removed without any tools. Simply release the safety tethers from under the rearmost panel, then remove the clamps by loosening the large nuts. You can leave the cover at home, then reinstall it in only a few minutes once the job is done.
Upgrade and Protect Your Vehicle at Mobile Edge
The truck accessories team at Mobile Edge in Lehighton, Pennsylvania, is available to install a truck bed cover like the Leer HF650M on your vehicle. Please drop by our store and let us find a perfect solution for your Ford, Chevrolet, GMC, Ram, Honda, Toyota or Nissan pickup truck. For more information, or to schedule an appointment with our team, call our store or click on the red icon below to send us an e-mail.