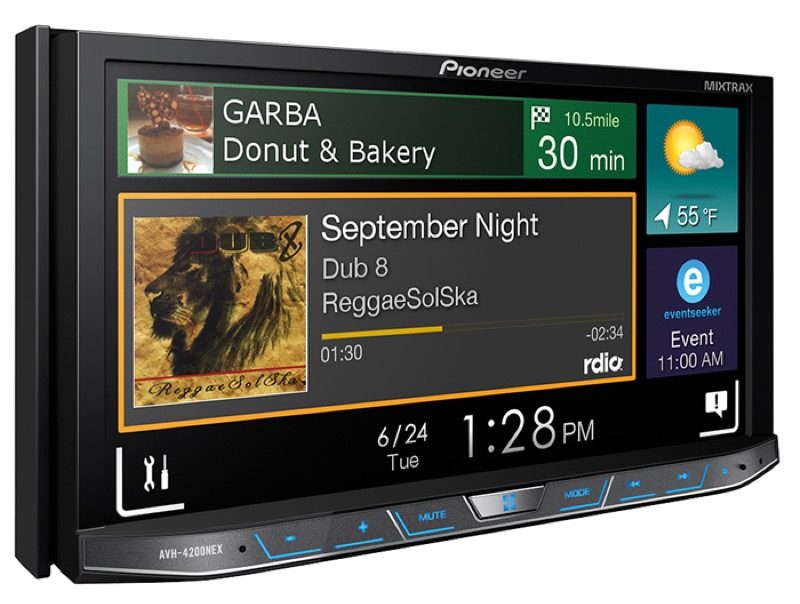 Offering our customers the latest technologies in an easy-to-use package is part of what sets Mobile Edge apart from our competitors. One source unit that has been very popular this year is the Pioneer AVH-4200NEX. With a 7-inch display and all the latest information and entertainment technologies, this unit may be the entry-level NEX product from Pioneer, but it's far from entry-level.
Smartphone Interfaces
Apple CarPlay and Android Auto are pretty much a requirement for today's drivers. Being able to send and receive text messages, make phone calls, and get detailed turn-by-turn navigation is just the tip of the iceberg. Music playback is as easy as asking to hear your favorite artist, and it's all done with your voice – so you can keep your hands on the wheel and eyes on the road.
The latest Bluetooth profiles including Hands-Free Profile Version 1.6 with Wideband Speech capability and AVRCP 1.4 for media browsing to ensure that your Bluetooth experience works the way you want it to. Phone calls are clear, and you can get access to your music the same way you would browse songs on an iPod.
Media Support
The AVH-4200NEX includes support for MP3, WMA, WAV, FLAC and AAC audio files, as well as MPEG, AVI, WMV and DiVX video files from CDs or DVDs, and, in some cases, USB or SD. A built-in HD radio tuner allows you to enjoy all the additional programming local HD channels provide. The AVH-4200NEX is SiriusXM-ready and supports the new Album Art Display feature.
Connectivity
You can upgrade your audio system with the addition of amplifiers for more dynamics and impact. A backup camera can make reversing your vehicle much safer. Dual-Zone allows your rear-seat passengers to watch a movie via an overhead or headrest monitor while you listen to the radio or enjoy your iPod. You can even interface with your factory steering wheel controls, factory infotainment system and display vehicle information thanks to iDatalink Maestro support.
Drop By Today To See The Pioneer AVH-4200NEX
The Pioneer AVH-4200NEX is a very popular source unit replacement solution here at Mobile Edge. If you are interested in one, drop by our store in Lehighton, PA, with your smartphone. We'd be happy to connect it to the AV-4200NEx we have on display and show you how easy it is to use. Feel free to contact us here for more information.