As a wife and mom, I know how busy life can get. It only takes a few things to fill my schedule and then, if I'm not proactive, I can find myself running late to appointments or forgetting things at the grocery store. Thanks to Apple CarPlay and Android Auto, though, my life is now more productive, safe and enjoyable.
Enhance Your Driving Time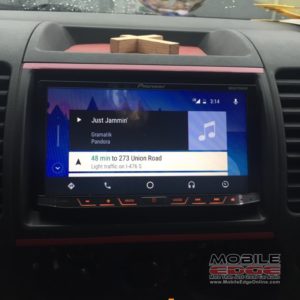 Compatible with any iPhone 5 or newer and any Android phone running 5.0 and above, these products mean you can take many of the apps and functions from your mobile phone and continue using them in a safe way as you drive. Imagine using your phone hands-free as you drive, making phone calls, sending texts and setting reminders. Your busy life doesn't have to be put on hold any longer while you drive. At Mobile Edge, the team can install a new in-dash stereo system in most cars that can equip you with this amazing technology.
Voice Control
With CarPlay and Android Auto, you will be able to make phone calls, send and receive text messages, use turn-by-turn GPS navigation, have reminders and upcoming events read to you, listen to music, and even have the weather reported to you. The best thing is that this is all done through voice control so your eyes stay on the road and your hands stay on the steering wheel.
All Your Favorite Music
Many other apps can also be used with this technology, including Spotify, iHeart Radio, Stitcher, Pandora and Audible. Being able to check things off my to-do list while I drive has been so great! This also means that when I get home, I have more time to spend with my family and more time to accomplish things around the house.
An Average Day
On an average day, I can easily spend a few hours in my car. It's pretty common for my day to look something like this:
I jump in my car and plug my phone into the USB port that is now installed in my vehicle. As I'm driving to my doctor's appointment, I remember that I forgot to text my sister to tell her that we changed the time we're supposed to meet for dinner. All I have to do is say, "Text Sarah: We changed dinner to 7:30 p.m. on Wednesday night." Then I remember that I need to water the garden when I get home. Through voice control, I say, "Remind me to water the garden when I get home." Suddenly, I think I may have missed my exit on the freeway and am unsure of how to get to the doctor's office. I say, "Give me directions to Johnson Family Medical Center," and now I'm getting turn-by-turn directions read to me so that I can get to my appointment on time.
Just like that,  I get things done easily get, and I'm more organized and in control of my time. And all of that was done while I kept my eyes on the road and my passengers safe!
Want To Know More About Apple Carplay Or Android Auto?  Stop By Today!
If this sounds intriguing to you, stop by Mobile Edge in Lehighton, Pennsylvania. The team will discuss options with you to find one that fits your lifestyle. Personally, since getting this technology in my vehicle, I never want to live without it!