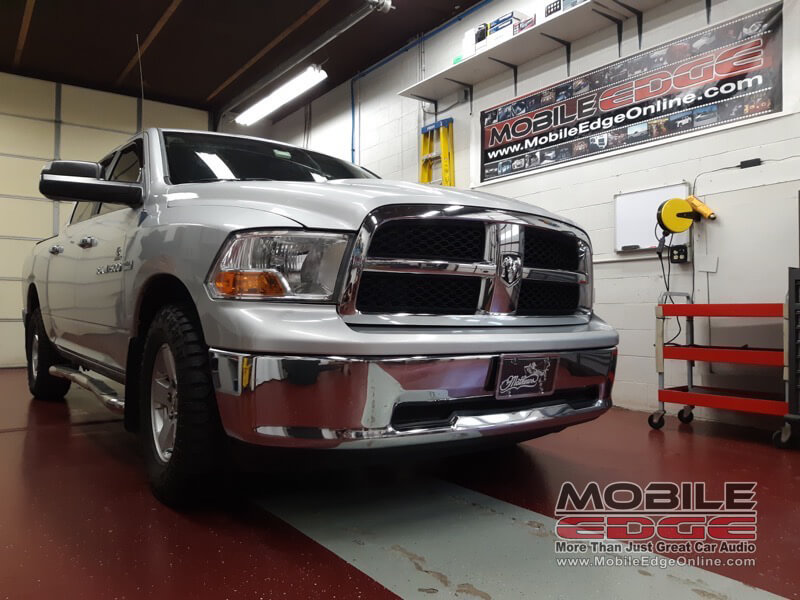 A client from here in Lehighton recently dropped into Mobile Edge to talk about upgrading his Ram 1500 with a backup camera. As is common with pickup trucks, it's hard to see objects directly behind the vehicle because the top of the tailgate is about three feet off the ground. The client originally wanted a camera system with a screen mounted to the top of the dash. After showing him how we could integrate a camera with a new radio and explaining everything else the radio could do, he changed his mind.
Ram 1500 Sony Radio Upgrade
We based the new infotainment system around the Sony XAV-AX5000 multimedia receiver. This double-DIN radio features a 6.95-inch touchscreen and includes Apple CarPlay and Android Auto smartphone integration. These vehicle-specific communication and entertainment interfaces allow the client to use voice commands to perform functions on his smartphone. He can send text messages, make phone calls, select navigation destinations or choose from a variety of streaming audio services like Pandora, iHeartRadio, Google Play Music or Tidal.
We mounted the radio in the dash of the Ram using an adapter plate and wire harness adapter so that we didn't need to modify any of the wiring in the truck. We also added an SXV300 SiriusXM Satellite radio tuner module to the radio so that the client can listen to whatever genre of music he wants, pretty much anywhere in North America.
Pickup Truck Backup Camera Safety System
As mentioned, the client wanted to be able to see behind the vehicle when backing up. We mounted a Momento MR-C300 backup camera and bracket on the rear license plate and ran the wiring up to the radio in the dash. The radio is automatically triggered by a connection to the reverse lights on the truck so that the camera image is displayed without the need to press any buttons.
The C3 camera includes six LEDs that come on when the camera is activated in the dark. The lights help to ensure that the driver can see what's behind the vehicle.
3M Window Tint
The client noticed that we're an authorized 3M window film retailer and asked about having work done on the driver and passenger windows on his Ram. We installed 3M Color Stable film on the windows because its rich, dark color matches the factory privacy glass on the rear windows.
Carbon County's Mobile Enhancement Experts
With the new equipment installation complete, the client returned to Mobile Edge in Lehighton to pick up his Ram 1500 and check out the new radio and camera system. We explained how the new radio functions and helped him connect his smartphone. He was thrilled! If you're interested in upgrading your truck, drop by our store, or click the red button below to schedule an appointment by e-mail.