When it comes to upgrading your car stereo, the proper installation of sound deadening by the team at Mobile Edge in Lehighton can make a good audio system sound great. How can reducing road, wind and tire noise improve your stereo? It lets you hear subtle details in your music. And that's not all: Sound deadening is a great way to improve the performance of speakers in your doors or dash. Curious? Keep reading to learn about this amazing improvement.
Sound Deadening Controls Noise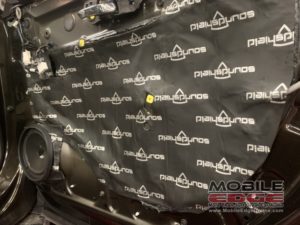 Vehicle manufacturers must balance vehicle weight and cost with considerations regarding noise, vibration and harshness. In many cases, you'll find the doors and fenders of your car are surprisingly thin and tinny. When our team installs a premium sound deadening product like SoundShield or Hushmat, noise energy can't transfer through those materials as easily. You'll hear less tire and exhaust noise, so your music will be clearer and seem more detailed.
Reducing the noise level in your vehicle has a second benefit. If you have a Bluetooth hands-free solution or a radio with CarPlay and Android Auto – these systems can process your voice with greater precision. Command interpretation will improve, and people you are talking to will more easily understand what you're saying.
Noise Control Improves Audio System Performance
Cars and trucks are built with access panels in the doors so that the release, lock mechanism and window regulators can be installed and serviced. These openings work against us when it comes time to enjoy music. The sound coming from the back of a speaker in your door can cancel the sound produced by the front to diminish bass and midbass performance.
When we install sound deadening material, it spans the large openings in your doors to seal them off. Now, your door acts like a proper speaker enclosure, and the performance and efficiency of the speakers installed there improve dramatically. We've seen increases of more than 9 dB from adding sound deadening. That's the same increase as having an amplifier that's eight times as powerful, but without the extra draw on your electrical system and potential damage to your speakers.
Upgrade Your Car or Truck with Sound Deadening
If you want to make your vehicle feel more luxurious by reducing background noise and improving the performance of your audio system, drop by Mobile Edge in Lehighton and ask about our sound deadening upgrades. A member of our team would be happy to inspect your vehicle and suggest appropriate locations for treatment to offer the best improvement. Whether your car is still all-original, or we've installed upgraded audio components, proper deadening is a great upgrade. Feel free to click the red button to send our team an e-mail or give us a call if you can't drop by.