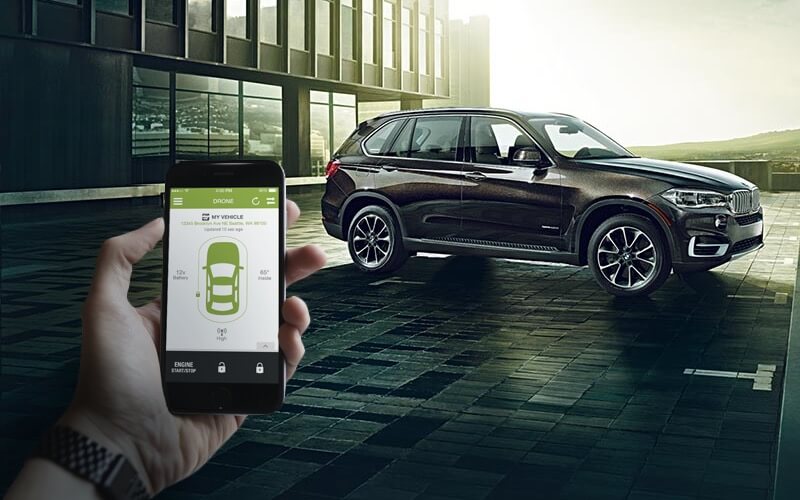 As technology expands at an ever-increasing pace, more and more people come to Mobile Edge in Lehighton looking for a remote starter for their vehicles. One particular question seems to grow in popularity every day: "Can you remote start your vehicle with your smartphone?"
Yes! You Can Start Your Vehicle With Your iPhone Or Android Phone
Our company, Mobile Edge, has been a leader in the remote start category for over 20 years. Our founder even wrote a book on it! As the technology in smartphones has increased and the coverage area for cellular data has gotten better, the capability to start your vehicle with your smartphone has hit prime time.
Sounds Cool, So How Does It Work?
Here is how it works. We install one of our Compustar remote starters in your vehicle, and we hook up any of the optional add-ons you may desire. These can include features like controlling your rear defroster or heated seats. Next, we install a DroneMobile module. That is the "secret sauce" that allows you to control the remote starter with your phone. Now once we're done, you simply download the free DroneMobile app and pick a subscription plan (yes, there is a small yearly fee since cellular towers are being accessed).
You are now set. As long as our Drone module we installed in your vehicle and your phone can both access the Internet, you are good to go. When we say you have unlimited range, we mean it. You can literally be anywhere in the world and remote start your vehicle.
Someone Stole My Car! At Least The Police Know Right Where It's At Because I Have DroneMobile!
But wait – it gets even better. The DroneMobile allows you to track your vehicle via GPS technology if you sign up for the premium plan. Now, you can instantly track your vehicle from your smartphone, tablet or computer. Many insurance companies offer discounts if you have a vehicle tracking device, so we suggest asking your agent about it.
If you opt for the optional alarm upgrade for your remote starter, the Drone will even send you notifications if someone is tampering with your vehicle. This is a great feature if you are not close to your vehicle at the time. You can then still call the police and potentially avoid a costly problem from ever happening.
Got A Remote Start Installed Within The Last Five Years? It May Be Compatible!
Now, you may be thinking, "I sure wish this technology existed when I got my remote starter from Mobile Edge years ago." Well, we have good news for you. Many of the systems we have installed in the last five years can work with the DroneMobile module. Give us a call or stop by at your convenience and we can let you know.
Want To Be Able To Remote Start Your Vehicle With Your Smartphone? Give Us A Call Today!
When you are ready to take control of your vehicle by your smartphone, stop in and see us. Why go out to a cold car ever again? And surely, you don't like scraping ice off the windows. Come see us at Mobile Edge in Lehighton, Pennsylvania. We can solve those problems for you.
Feel free to Contact Us Here for more information about our DroneMobile system, or any of our other great products and services.