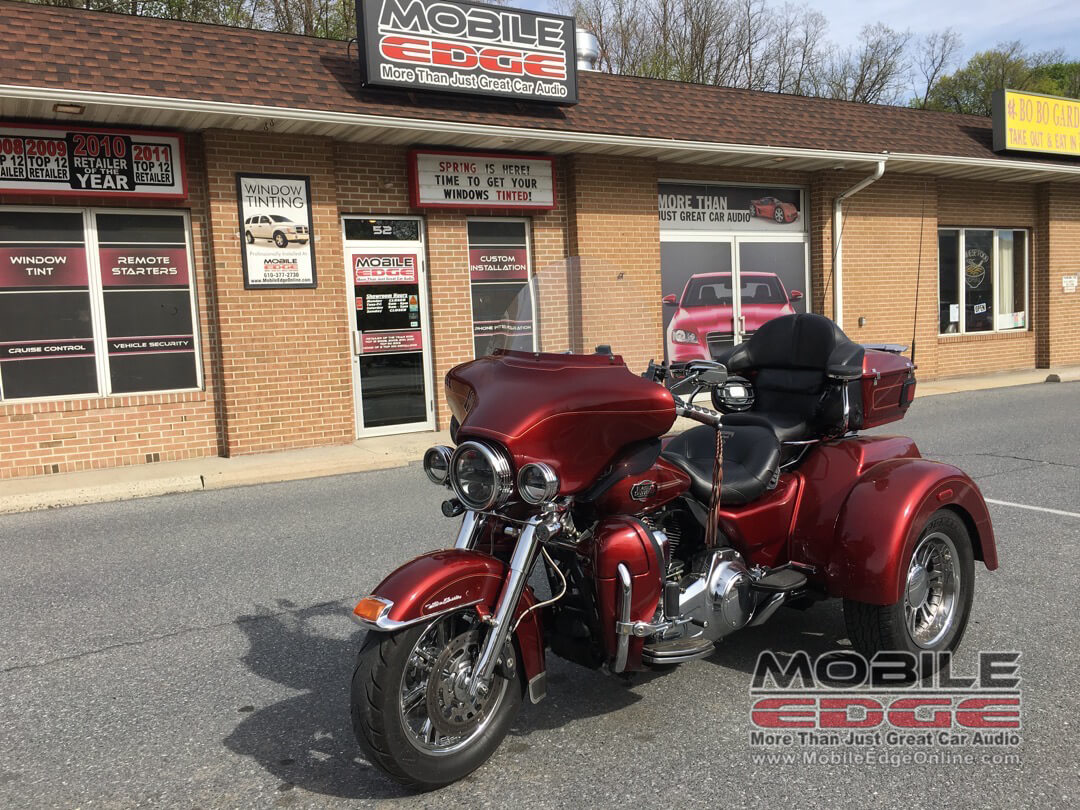 The Bangor, Pennsylvania-based owner of this 2009 Harley-Davidson Tri Glide recently contacted the team at Mobile Edge about upgrading its existing audio system. The bike had front and rear speakers but didn't sound good or play loudly enough when cruising on the freeway. Because the owner uses the trike to ride all over the country, he wanted the audio system to play louder and be much clearer. Harley audio system upgrades are one of our specialties – let's take a look at what we created for this client.
Custom Hertz Harley-Davidson Speaker Upgrade
Mike, our lead technician, created one of his trademark custom speaker installations for the front fairing of this Harley. After protecting the fuel tank and paintwork with masking tape, Mike removed the factory speakers to make way for a set of heavily customized Hertz HMX 6.5 S coaxials. The first step was to cut the tweeter bridge from the front grill and extend the wiring. Mike molded the tweeter into a set of 5¼-inch to 6½-inch adapter brackets then added a perforated aluminum grille and black speaker cloth to the faces before mounting them to the fairing. The woofer from Hertz's HMX powersports speaker line bolts up to the rear of the speaker adapter. Next, we removed the Kicker speakers from the rear speaker pods and upgraded them with a second set of Hertz HMX 6.5 S coaxial powersports speakers.
Harley-Davidson Amplifier and Radio
We replaced the radio in the fairing of the trike with a new Aquatic AV AQ-MP-5UBT-HS digital media receiver. This new stereo includes Bluetooth audio streaming, a high-quality tuner module, and a large, easy-to-see color LCD screen. The radio drops right into the factory radio opening and uses the same electrical connector as the original radio.
The front and rear preamp outputs feed a Hertz HMP 4D powersports amplifier that we mounted above the radio, inside the fairing. This high-efficiency amplifier can provide up to 60 watts of power to each of the four speakers on the Harley and offers an IP64 water intrusion rating that will help to ensure that the system performs reliably – rain or shine!
Custom Harley Trike Sound System
With the equipment installed, Mike finished the project by setting the crossover and sensitivity controls on the amp to optimize the performance of the system and ensure that it will sound great, even with the volume maxed out. The client returned to Mobile Edge and was thrilled with the look of the upgrade. He hopped on the bike for a listen and was smiling from ear to ear! If you are interested in upgrading the sound system on your Harley, give the motorcycle audio experts at Mobile Edge in Lehighton a call or click on the button below to schedule a personal consultation.