The Compustar 2WT9-FM remote kit from Mobile Edge in Lehighton offers two-way communication and an LCD screen to let you know what the system is doing. With excellent range and an intuitive interface, the new Prime T9 offers exceptional value. Let's check out the features of the 2WT9-FM remote kit.
Two-Way Communication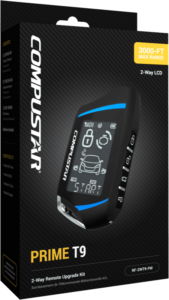 With a one-way remote, you never really know for sure if the command you sent to the vehicle was received unless, of course, you can see the vehicle. With a two-way remote like the Compustar 2WT9-FM, the LCD screen shows confirmation that lock, unlock and remote start commands have been received. Once your car starts, the remote will count down the remaining runtime.
If you add a security system to your remote starter, the remote will page you if the alarm has been triggered and will let you know what zone caused the alert. Two-way remotes are like having a pager attached to your convenience system.
Long-Range Performance
With the Compustar FMX transmission technology, the 2WT9-FM remotes provide up to 3,000 feet of range, or what we refer to as 6x Power Range compared to a basic starter system. You can remote start your car, truck or SUV from inside the grocery store, your favorite restaurant or the movie theatre.
Convenient Controls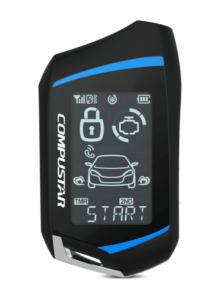 The Prime T9 remote has four buttons to make system control easy. A second one-way, four-button remote is included so that other family members can use the vehicle without having to steal your keys. As with all Prime and PRO remote starter systems we sell, you can add the DroneMobile smartphone control and GPS locating system for nearly unlimited range.
Experience the Compustar 2WT9-FM Today!
When it's time to shop for a remote starter for your car, truck or SUV, drop into Mobile Edge. Our team will help you find the perfect solution for your vehicle and the way you use it. Even diesel, hybrid, manual transmission and push-to-start vehicles are compatible with the Prime T9 car starter system. Why not fill out our Remote Starter Quote Request FORM to get the process started? If you have any questions, click the icon below.