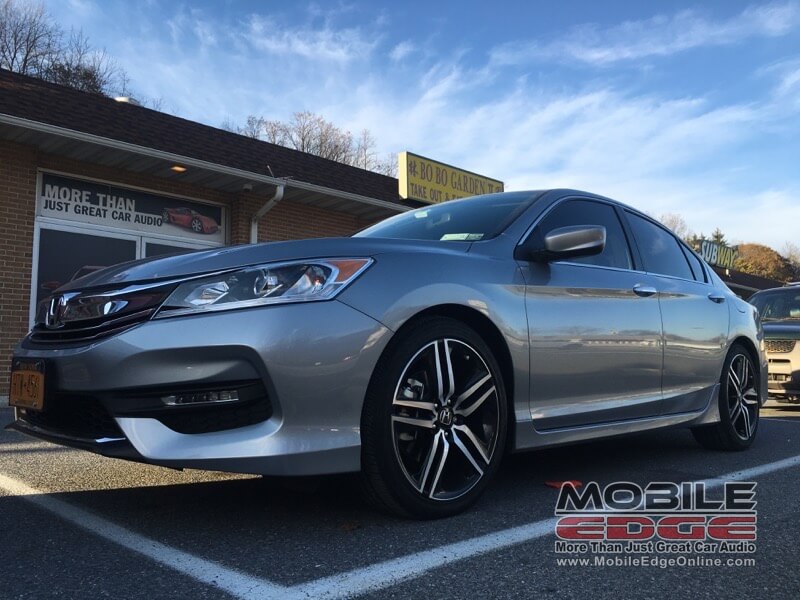 A client from Staten Island recently made the trip to Lehighton for a 2017 Honda Accord remote start installation by Mobile Edge. A friend of hers had recommended us after we installed a starter in his Honda last year. She read our article about arranging for a rental car for out-of-town clients, and based on that, knew we were the right people for the job.
Step 1: The Consultation Process
When the client arrived at our store, we looked over her vehicle and asked about where she usually parked it when at home, at work and anywhere she visits frequently. This is one of the most important pieces of information we get from our clients. Using their answers, we can determine how much remote control range they'll need for the system to operate reliably. We found out that she parks her car in a parking garage down the block from her home. We suggested the P2WR3SS remote kit. It's a solution that provides 10x power range and features a single-button remote that is very easy to use.
With a plan for the project in place, the rental car we scheduled from Enterprise arrived, and she was on her way to explore Jim Thorpe while we worked on her car.
Step 2: Remote Starter Installation
Once we checked the car in and confirmed that all the electrical systems were functional, we put our vehicle protection covers in place, connected the battery to our charging system and set to work installing the Compustar remote car starter.
The client opted for the optional automatic rear window defrost feature. When the interior of the vehicle is below 32 degrees, the remote starter will automatically activate the rear window defroster to clear off any snow or frost.
Step 3: Honda Accord Remote Start System Training
After a day of shopping and sightseeing, the client returned to Mobile Edge to check out her Honda Accord remote start system. She had brought a coat with her to donate to our Coats for Kids promotion as well. We showed her how to use the starter system and demonstrated how the two-way remote would confirm that the function request has been received and executed. The client liked the way the system worked and was happy about her adventure to Pennsylvania.
If you want a way to warm up your vehicle, come to the remote starter experts at Mobile Edge in Lehighton. We'd be happy to work with you to develop a solution that meets your needs. Give us a call or click the button below to get in touch with us.