In addition to installing high-quality window films, Mobile Edge in Lehighton offers complete window tint removal services. If you have inexpensive or poorly installed window film that has bubbled, faded or turned purple, we can remove it without damaging your windows or the rear window defroster lines. Let's take a close look at how the window film removal process works and the tools we use.
How Mobile Edge Removes Window Tint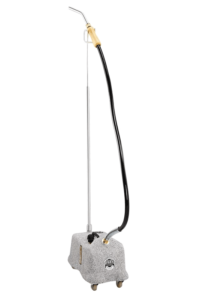 The conventional process for removing window film has been to use a metal or plastic razor blade to scrape the film and adhesive off the window. Some shops also use abrasive pads to scour the adhesive off windows. This process exposed the vehicle to potential damage from slips with the razor blade near rubber seals and trim. On rear windows, removing the film and adhesive without affecting the defroster lines was an arduous task and exposed the defroster lines to damage.
Mobile Edge has invested in a SteamBlade from Jiffy Steamer to help release the adhesive that keeps the window film bonded to the window. The SteamBlade is a tool designed specifically for this task and is optimized in steam flow and temperature to work with all common films.
Reasons to Remove Window Tint
There are many reasons our clients may want to remove tint from their vehicle. A common request is to remove tint from a previously enjoyed vehicle. Not everyone wants to have window tint on their vehicle and some clients want to increase visibility in low-light conditions.
If you have a window tint that is failing because of improper installation, we can remove it and install high-quality 3M tint to get your car, truck or SUV looking great again. Bubbling, fading, turning purple and contaminated installations are common reasons why our clients ask us to re-tint their vehicle.
Pennsylvania's Window Tint Experts
If you live near Allentown, Wilkes-Barre or Scranton, give the team at Mobile Edge in Lehighton a call to find out how we can get your windows looking great. We offer premium window film installation using products like 3M FX Premium, 3M Color Stable that matches factory privacy glass and the amazing 3M Crystalline that offers UV and IR heat rejection without the dark look of carbon and dyed films. Whatever you need, our team of expert technicians can deliver. For more information, call us at 610-377-2730 or click the red button below to send us an e-mail request for a personal consultation.